Advertisement - Please Continue to Read Below
Chris Jericho, former AEW Champion during his weekly Saturday Night Special talked about the new concept that WWE has introduced- WWE Thunderdome.
Chris Jericho finds WWE Thunderdome to be 'cool'
Recently, WWE shows have found a new home and moved out of WWE Performance Center. They have moved to the Amway Center and brought the new WWE Thunderdome.
Fans are able to enjoy the virtual experience of the live shows from home.1,000 LED boards have been set up including pyrotechnics, drone cameras and new lighting to enhance the experience.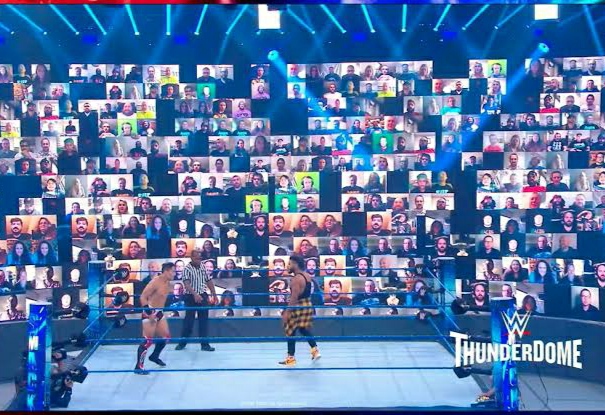 Chris Jericho is really impressed with the new concept and has loved it. He said, "I loved it, I loved the presentation of it. It looked great.
Chris Jericho continued, "I think it's great that WWE got out of the Performance Center; I think it was really killing their vibe because it's just a warehouse, do you know what I mean? It has nothing to do with – at least dress it up, or dark it up, or whatever it was, but the ThunderDome looked cool."
There is one drawback that the "Demo God" has spotted. Chris Jericho said, "The only thing confusing to me was the fans behind them. They weren't making a lot of noise so maybe they couldn't make noise, or whatever that may be. But it looked cool, but it's also a little bit weird, like something out of The Running Man or something. It's like something you'd see on Black Mirror, just all these faces behind you but they're all on TV screens."
WWE Thunderdome is a new experience for the WWE Universe.They can show their presence from home through the video boards.
However, Chris Jericho has explained the real presence of the fans are necessary and they are irreplaceable. He explained AEW is preparing to let in the fans obeying the rules of social distancing.
Chris Jericho explained, "Nothing takes the place of real fans, and I'm really excited to have real fans at our show next week, next Thursday."
He continued, "And we did it right, we spaced everybody in pods. If you're with 3 people, you can buy a pod of 4, if you're with 2 people, you can buy a pod of 2, or 6, and you stay in that area. You're social distanced from everyone, everyone is going to be wearing masks, and I think people are ready for it. It's time to at least give it a try and do it safely, and then people can see that we can start going out and doing these sorts of things."
If you like reading about MMA, make sure you check out MMAIndia.com
Also, follow India's biggest arm wrestling tournament at ProPanja.com
NJPW star Kenta terms his WWE stint 'frustrating', desires a bout with CM Punk