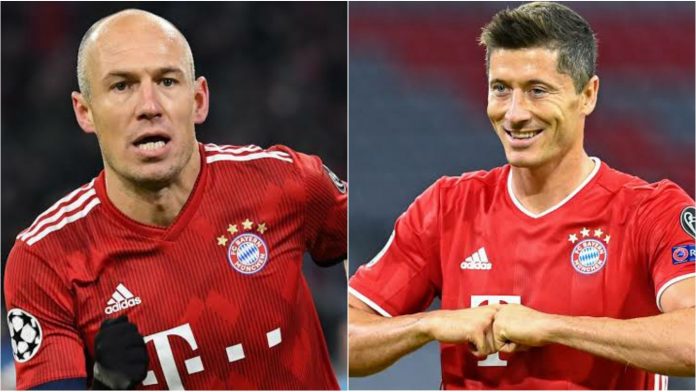 Advertisement - Please Continue to Read Below
Arjen Robben, former Bayern Munich winger has a message for the former teammate, Robert Lewandowski ahead of Bayern Munich's clash with PSG in the Champions League final.
Arjen Robben urges Robert Lewandowski to join the Eredivisie club
Arjen Robben spent the major part of his career at Bayern Munich. He hung up his boots in 2019 after spending ten long years at the club. In June 2020, Arjen Robben made an announcement that he would be coming out of retirement. He did just that and joined his boyhood club, FC Groningen.
Arjen Robben gained popularity playing for the Dutch side, FC Groningen. He started his career in 2000, playing for the club.
Fox Sports NL posted a video on Instagram, that featured Arjen Robben sending a message to Bayern Munich striker, Robert Lewandowski.
Robben wants the former teammate to join him at Eredivisie side, FC Groningen. In the video, Arjen Robben said,"Lewandowski, score two goals tonight and you can come to Groningen."
Arjen Robben joined Bayern Munich in 2009 from the Spanish giants, Real Madrid for €25 million. Since then, he has made 309 appearances for the club and scored staggering 144 goals. He has won eight Bundesliga titles, five DFB-Pokal titles. He helped his team winning the UEFA Champions League in 2012/13 and UEFA Super Cup in 2013.
Previously as reported, Arjen Robben and Robert Lewandowski had some issues with each other. Lewandowski was frustrated with the Dutch's alleged selfishness. However, things started to improve and now there is a great connection between the two.
Robert Lewandowski said in one of his interviews when they played together, "Things were a bit difficult between me and Robben at first.I had to get used to him, I have to be honest about that. Our styles of play were very different, things were just not completely right."
He added,"But look at how things are now. We only need to look at each other one second to know what the other is going to do. That is an amazing feeling on the pitch. He knows what I want and the other way around. Arjen is a great player and a very nice guy."
Arjen Robben finished the 2014–15 season as joint second-top goalscorer with teammate Robert Lewandowski in the Bundesliga with 17 goals.
Robert Lewandowski has immense responsibility on his shoulder as his side, Bayern Munich is set to face Paris Saint Germain in the Champions League final. The 32 years old striker would love to get his hands on the trophy but it would be a difficult task as PSG are eyeing to bag their maiden Champions League title win.
If you like reading about MMA, make sure you check out MMAIndia.com
Also, follow India's biggest arm wrestling tournament at ProPanja.com
Wayne Rooney talks about how PSG can get the better of Bayern in the UCL final