American swimming icon and five time Olympics gold medallist Katie Ledecky has etched another milestone in her career, setting a new Olympic record at the first-ever round of Women's 1500 Freestyle Prelims on Monday.
After losing her sixth Olympic gold to Australia's Ariarne Titmus earlier in the women's 400 metres freestyle, Ledecky bounced back strong with posting the fastest time in the 200m heats, as well as a record setting time of 15:35.35 time in the 1500m prelims.
It's an OLYMPIC RECORD for @katieledecky as she wins her heat in the 1500m freestyle.

15:35.35 #TokyoOlympics pic.twitter.com/jw29Dfu1FP

— #TokyoOlympics (@NBCOlympics) July 26, 2021
Although the swim is still fifteen seconds short of Ledecky's world record of 15:20.48 which she set back in 2018, it is her eighth fastest swim. On top of that, she is now the only woman who set an Olympic record in the event.
However, prior to Ledecky's 1500m record today, four other unofficial records were also set in the event. starting with Katrina Bellio of Canada clocking 16:24.37 in the first heat, followed by Austrian swimmer Marlene Kahler's swim of 16:20.05 and Viktoria Mihalyvari-Farkas of Hungary setting a time of  16:02.26 in the second and third heats respectively.
The fourth heat initially saw Ledecky's teammate Erica Sullivan clocking her swim under the 16-minute mark. Setting a time of 15:46.67, Sullivan was the fastest to advance into the finals before Ledecky moved past her with the official record.
Ledecky swam the second fastest in her career, still denied gold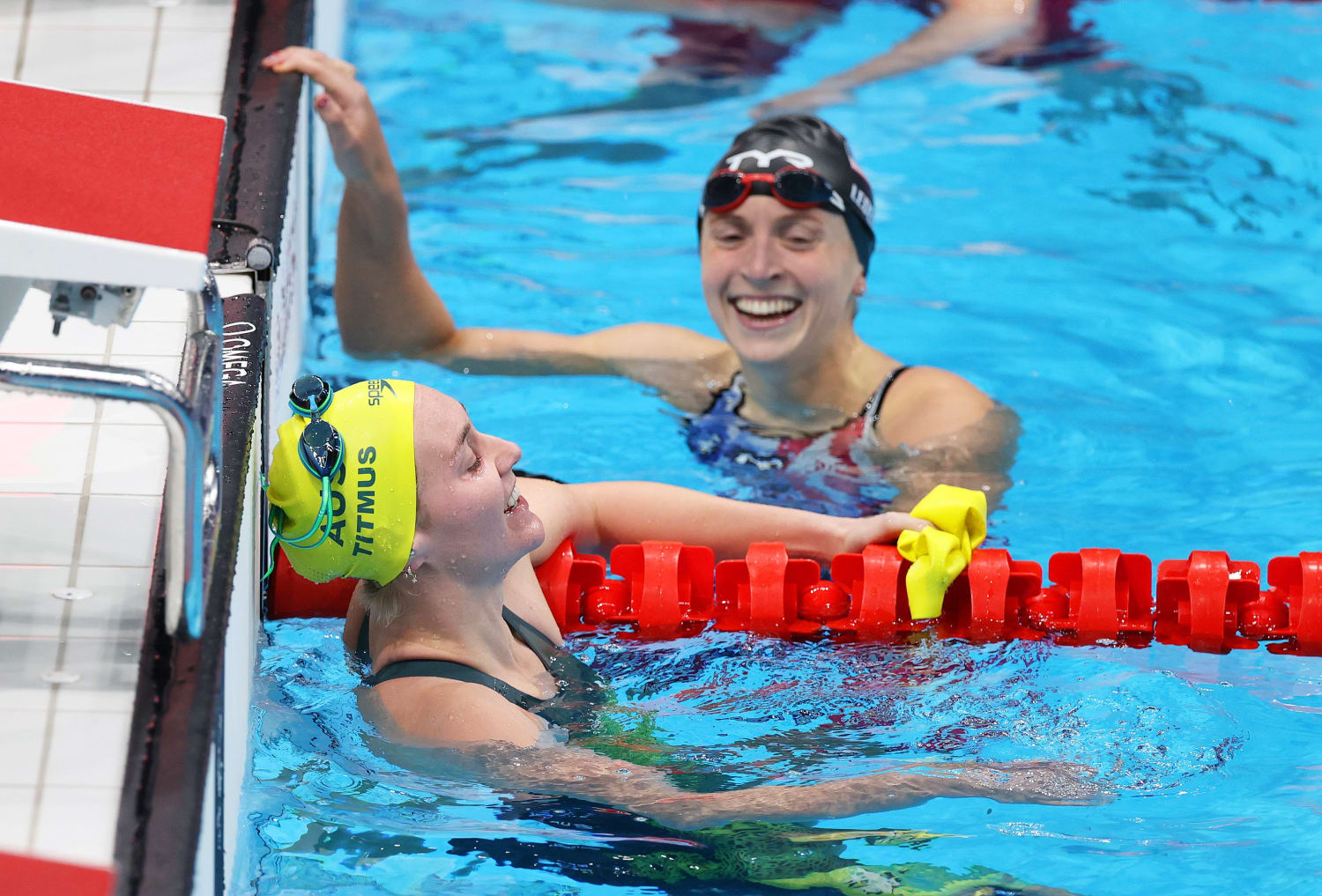 The loss to arch-rival Titmus in the 400m freestyle event denied Ledecky her third straight gold at an Olympics, as well as her first individual Olympics event without a gold.
"I could see her out of the corner of my eye and knew that she wasn't fading at all, but I felt like I was still right there and I certainly didn't fall off or anything," Ledecky said after the event, "She just came home in 28 [seconds]."
The 24-year-old clocked a time of 3:57.36 -the second fastest swim of her career, just 0.67 seconds behind Titmus who finished with a time of 3:56.69.
"On the last lap we were both breathing the opposite way," said the 'Terminator' Titmus after winning her maiden Olympics gold, "I had no idea where she was and we were both just going for it. I was excited that to win this event I had to beat a great champion." (H/T WSJ)
Australia's Ariarne Titmus wins the Olympic gold medal in the women's 400m free.@KatieLedecky gets the silver, earning her first Olympic medal of these #TokyoOlympics.

📺 NBC
💻 https://t.co/XznsNz3Xze
📱 NBC Sports App pic.twitter.com/HDzi46SjJG

— #TokyoOlympics (@NBCOlympics) July 26, 2021