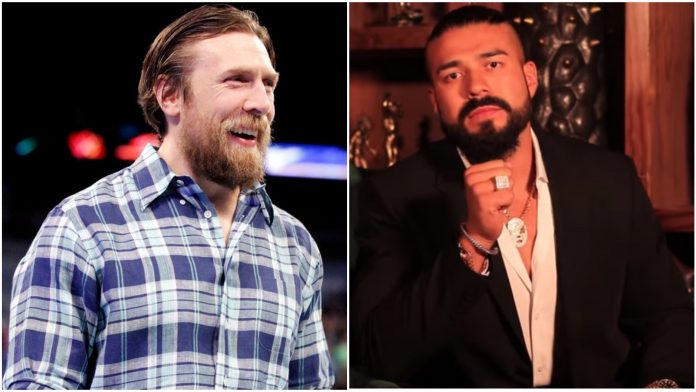 Advertisement - Please Continue to Read Below
The former WWE star Daniel Bryan has been slated to make his debut at Sunday's AEW All Out pay-per-view in Chicago, Illinois. Recently, it was noted by the fans that AEW President Tony Khan called off the match between Andrade El Idolo and Pac that was planned for the pay-per-view. The Mexican Star went on to tease his new opponent as he took to his social media account.
Daniel Bryan could make his AEW debut against Andrade El Idolo
Previously, on an edition of Wrestling Observer Live, Bryan Alvarez gave an update on the AEW debut of former WWE Champion Daniel Bryan. He stated that he has heard from a source that Bryan's debut has indeed been moved up to AEW All Out this weekend, as originally reported by Cassidy Haynes.
The initial reports stated that Daniel Bryan would make his AEW debut at the AEW Dynamite: Grand Slam show from the Arthur Ashe Stadium in New York on September 22nd.
But, Cassidy Haynes of Bodyslam.net reported that it looks like AEW have made the change to Bryan's debut date due to the concerns regarding the rise in COVID numbers and the possibility of increased COVID restrictions in New York.
Andrade El Idolo seemingly teased a huge surprise opponent for AEW All Out event after his scheduled match at the upcoming event was canceled. He was initially supposed to battle Pac, but the clash was nixed after the Brit is unable make it to Chicago due to travel issues.
It turns out that Andrade is looking forward to battle someone else now and it could well be Daniel Bryan now. The former NXT Champion took to Twitter to tease fans about squaring off against a mystery opponent at the said pay-per-view on September 5th.
You can check out the Tweet below:
@AndradeElIdolo vs ? #AllOut #Chicago pic.twitter.com/XS2WN3GvW0

— "EL IDOLO" ANDRADE (@AndradeElIdolo) September 2, 2021
Andrade El Idolo was infuriated when it was informed by Tony Khan that the match has been scrapped off. Khan revealed that the match will be postponed until a future episode of AEW Rampage. Andrade responded to Khan's tweet and stated that Pac was probably not ready to face him yet and required some more time to prepare:
I just wasted my time! It's like in boxing, when they don't make weight, the fighter has to be fined a sum of money Or is he just not ready to face me and he wants more time! @AEW #AEWAllOut #TranquilaRaza 👊🏼👊🏼👊🏼💀 https://t.co/InjjLjhRjU

— "EL IDOLO" ANDRADE (@AndradeElIdolo) September 2, 2021
The fans are also speculating the opponent to be Malakai Black but given he is a heel similar to Andrade, they are unlikely to collide at the event. Rather, Daniel Bryan is seemingly a better option to move forward with the match.