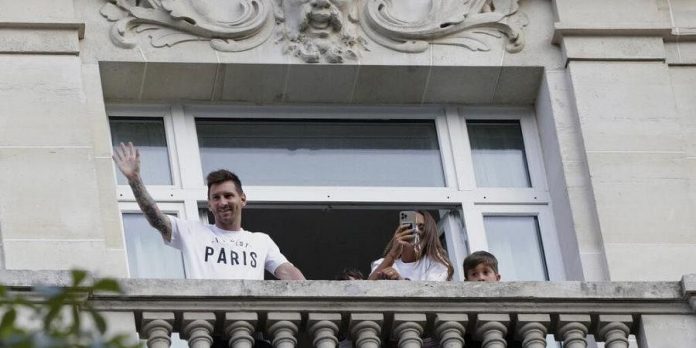 Advertisement - Please Continue to Read Below
It is needless to say that the six-time Ballon D'or winner Lionel Messi has fans in every corner of the world. The Argentine great recently made a huge move to Ligue 1 side, Paris Saint Germain, and has received a warm welcome in the French capital.
He was recently spotted by a couple of Malayalis at Hotel Le Royal Monceau, Raffles Paris and the former FC Barcelona star has certainly made their day.
Lionel Messi responds to the chants
Anas PA and Sameer, who are the natives of Kerala, India were on a work trip to Paris for a week and luckily enough they had spotted the former FC Barcelona star standing in the balcony next to theirs. He shared a video clip that went viral which saw Lionel Messi waving from his hotel balcony at the crowd on the Paris street below. The Indian fan had started the chant of "Messi, Messi, Messi, Messi…."
He was heard saying in Malayali which translated as: "The King of Football. Did you see him? He's standing right there. There's nothing more I want after this."
Messi was with his wife Antonella and eldest son Thiago, turned to him and nudged his father hearing the chants. It was the moment of truth when Lionel Messi looked back gestured a thumbs up for the two Malayalis.
A Malayali's ecstasy on having seen Lionel Messi on the balcony just beside his in Paris… pic.twitter.com/lb0oJF77Kb

— Ashlin Mathew (@ashlinpmathew) August 11, 2021
ALSO READ: Blame Game Begins as Lionel Messi Exits Barcelona
While speaking to The Telegraph over the phone, Sameer, who is also an amateur football player told that it was a magical moment for him. He had even managed to get a selfie with Messi after waiting for a couple of hours.
He said: "We had a faint idea that Messi would be staying in our hotel — there had been hectic activity before his arrival. But we never expected to be standing one balcony apart and see him wave at us."
Sameer and Anas work for a private firm in Doha, Qatar, had arrived in Paris on an official trip a week ago along with their Iranian colleague Naeem Baloch. Sameer is from Malappuram while Anas is from Thrissur.
He further added: "We all just stood there frozen after Messi looked at us."
Lionel Messi signed a two-year deal with French League giants Paris Saint-Germain (PSG) after ending a 13-year long stint with La Liga heavyweights FC Barcelona. There was no transfer fee for Messi as he became a free agent after his contract with the Calatonians expired. The New York Times reported that he will earn $41 million per year.
Also Read: