The sport of football has seen many legendary players clinching some of the most coveted trophies and achievements in their careers, but none of them probably cannot hold a candle to the possession of Erling Haaland.
As it turns out, Borussia Dortmund's Norwegian striker has gotten his hands on the priceless Hasbulla Mug!
Hasbulla Mug is Haaland's "favourite"
In the past few months, Dagestani social media and TikTok star Hasbulla Magomedov has become the most popular name in the mixed martial arts community and not only has he shaken up the entire combat sports scene, but the teenager has also transcended his fame into other sports.
An 18-year-old from Makhachkala, the capital of Dagestan, Hasbulla became a well-known name in the MMA fandom since the promotional clip about his fight against Kazakh rapper Abdu Rozik broke the internet.
Being handled by Russian MMA fighter Asxab Tamaev, Hasbulla may be far away from actually fighting Rozik in a match, but the regular clips and histrionics have been keeping the fans engaged and along with the likes of Khabib Nurmagomedov, Henry Cejudo and even Joe Rogan, 'Mini Khabib' is now a favourite of Erling Haaland, one of the greatest strikers in the world today.
On Wednesday, Haaland shared a couple of stories on his official Instagram handle, where he showed off his new Hasbulla Mug, along with the writings, "Its time for a lovely cup of tea" and "My favourite mug".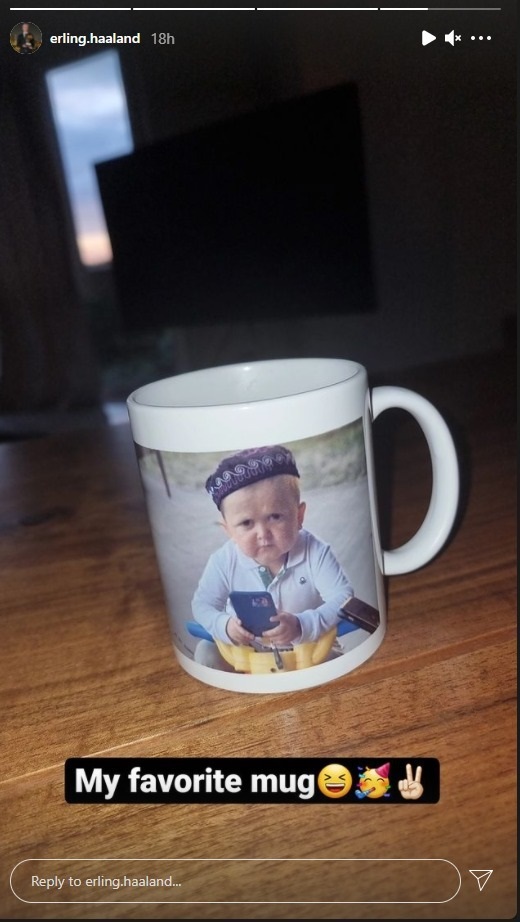 Netizens took a dive on the internet and found out that this particular Hasbulla Mug is available for purchase on BurnerIT, where it costs $14.99.