Advertisement - Please Continue to Read Below
Chris Jericho, the AEW star during the Talk Is Jericho podcast, recalled the segment with boxing star, Mike Tyson on AEW  Dynamite. He talked about his wish of facing 'Iron' Mike in a boxing bout. 
Chris Jericho was open to a boxing bout with Mike Tyson
Chris Jericho was previously involved in a segment with Mike Tyson on an edition of AEW Dynamite. Their tiff had started way back in WWE when the boxing star was a guest host.
Jericho had partnered with Tyson in a match against the DX(Triple H & Shawn Michaels). Tyson had revealed himself to be a fan of the stable, wearing the DX shirt. He had then knocked him out with a heavy punch.
Recently, Tyson made an appearance on AEW Dynamite and was yet again involved in a confrontation with the Demo-God. Jericho had asked for an apology from Tyson because of the past incident but he said that Jericho got what he deserved.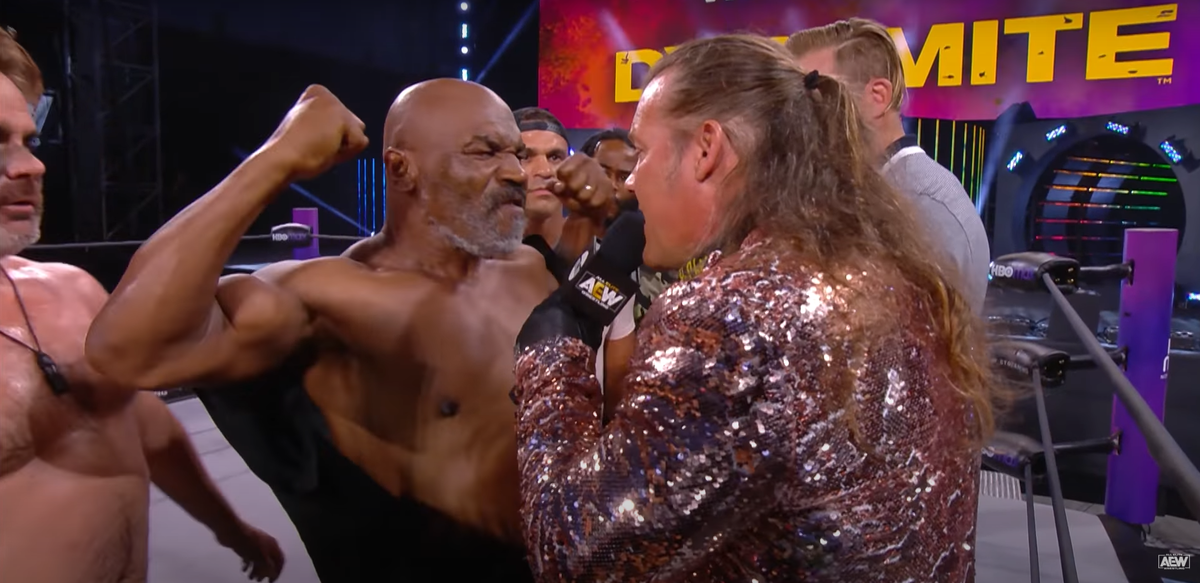 Check out the glimpses of the segment:
.@IAmJericho wanted @MikeTyson. He got him AND @vitorbelfort AND @HenryCejudo AND A WHOLE LOTTA TROUBLE 😱 #AEWDynamite pic.twitter.com/iqvEnqx9Nb

— All Elite Wrestling on TNT (@AEWonTNT) May 28, 2020
They had shoved each other and things escalated pretty quickly as a fight started between the two. During the podcast, Chris Jericho talked about the segments opened up on having a bout with Mike Tyson, but in a boxing match.
Chris Jericho said, "Earlier this year, when we had the little confrontation with Tyson, which may or may still happen.Who knows really, but they said, 'Mike really wants to do something. What would you be up to?' I said, 'whatever. Let's do a match.' You want to do a boxing match? I'll box Mike Tyson."
ALSO READ: Sasha Banks speaks about her close relationship with Vince McMahon
The former AEW Champion also referred to the boxing match between Floyd Mayweather and The Big Show at WrestleMania 24. During the match, Show also suffered a broken nose after a brutal punch from Mayweather. Jericho also wanted a similar angle with Mike Tyson and would not mind getting his nose broken.
He said, "You can hit me and I'm fine. I'll be fine, and I remember when Big Show had that with Floyd Mayweather. He told me Mayweather hit him and Mayweather broke his nose. And Show was like, 'I've had my nose broken by less.'"
We might see a boxing bout between the stars sometime in the future.
If you like reading about MMA, make sure you check out MMAIndia.com
Also, follow India's biggest arm wrestling tournament at ProPanja.com
Also Read:
Renee Young talks about the shocking pregnancy announcement made by husband Jon Moxley