After a summer of chaos, Barcelona is back to the field and the winning ways in La Liga. And the star of the evening was none other than Ansu Fati, Barcelona's mercurial star for the future.
Barcelona were up against an unpredictable Villareal in their season opener and judging just by yesterday's performance, things do seem to be returning to normalcy at Camp Nou. The Blaugrana registered an emphatic 4-0 victory against Villareal courtesy of an Ansu Fati brace followed by a Messi penalty and an own goal by Pau Torres.
However, in spite of his heroics, Ansu Fati missed out on a deserving man of the match award, and here's the ridiculous reason for the mishap.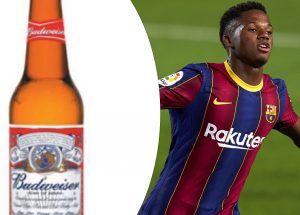 Old enough to play but not to drink
Ansu Fati has been incorporated into the Barca first team just last week and while he may be rubbing shoulders with legends of the game, he still is just 17.
And as a result, when he was declared Man of the match after his impressive performance against Villareal, he couldn't accept the award simply because the sponsors were Budweiser, a beer company.
Ansu Fati could not be chosen as the Man of the Match for Barcelona tonight because the sponsors are a beer company (Budweiser) and he's underage. Jordi Alba is MOTM instead.

— Get Spanish Football News (@GSpanishFN) September 27, 2020
And as a result, Jordi Alba was chosen as Man of the match after yesterday's fixture.
And hence the entire episode while good as a precautionary measure still comes across as one of the most ridiculous things that one will ever witness. Simply because it wasn't as if Ansu Fati was expected to chuck beers as soon as he accepted the award.
"Fati will have a great future" claims an impressed Koeman
The Barcelona manager expectedly looked extremely impressed with the performance of the youngster.
"We must highlight the game and performance of Ansu Fati," Koeman told reporters. "I was complaining a little last week about him not having the maximum level of performance in the pre-season.
Also read:Phenomenal Pistolero: Luis Suárez scores a brace in his debut as Atlético routs Granada 6-1
"He is only 17 years old, he will have a great future, but he must improve things. Sometimes he lacks a bit of concentration."
More news from the La Liga
Luis Suarez completed a dream debut for Atletico Madrid as the former Barcelona striker netted a brace in an emphatic 6-1 victory for his side.
Real Madrid on the other hand had to struggle against an exciting Real Betis in a 3-2 win for the Los Blancos.
If you like reading about MMA, make sure you check out MMAIndia.com
Also, follow India's biggest arm wrestling tournament at ProPanja.com
Also Read:
And then there was one: The departure of Suarez and the agony of Messi