Last week, Teófimo López had threatened his promotional company Top Rank that if his terms weren't met, he will part ways with Bob Arum just like Floyd Mayweather.
Now, that threat has just become a war.
The WBA (Super), WBO, and IBF lightweight titleholder has been all over the boxing media after the promotional and broadcasting rights for his upcoming title defense against George Kambosos Jr went to Triller, who outbid both Top Rank as well as Matchroom during the IBF purse bid on Thursday.
Todd duBoef's email to Kevin Mayer, where it all started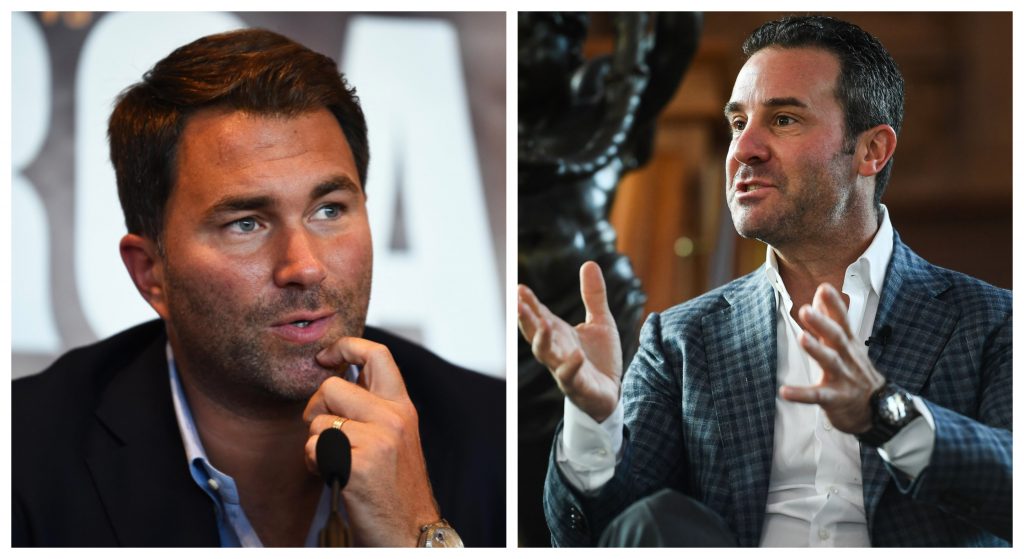 Top Rank CEO Bob Arum wasn't really happy seeing Matchroom MD Eddie Hearn taking part in the bid, while the latter recently hitting back at Arum for his comments as well.
Although both of them couldn't come close to what Triller CEO Ryan Kavanaugh submitted as the winning bid ($6,180,000), Hearn ($3,506,000) had a higher purse bid submission compared to Arum ($2,315,000), with an aim to bring the bout to DAZN and ESPN respectively.
Meanwhile, on 11th February, Top Rank president and Arum's stepson Todd duBoef had originally sent an email to Kevin Mayer, strategic advisor at DAZN Group's primary shareholder Access Industries, vexing about Hearn's wish to take part in the purse bid for the fight.
In the email, duBoef told Mayer, linking a story on The Athletic regarding Hearn's participation in the bid, and informing Mayer about one favor duBoef did for DAZN- clearing ESPN's Ramirez v Taylor programming off of May 8 to allow the broadcast of DAZN Canelo v Saunders. Mayer replied to duBoef as well as DAZN Group COO Ed McCarthy, requesting Ed to "think hard about this please?"
Eddie Hearn still took part, even calling a higher bid than Top Rank
While sources cited that following a phone conversation with Mayer, DuBoef was sure that Hearn won't be bidding on the fight, but seeing the Matchroom chief present during the purse bid was not favorable at all for the Top Rank prez.
Following the bid, DuBoef revealed to The Athletic that all while they weren't on accepting on Hearn trying to cash in on the López vs Kambosos bout, the fight going to the purse bid had no connection with López.
"The value of the match is what we bid on, it wasn't our value on Teofimo Lopez. That is a clear differentiator. This has nothing to do with Top Rank, it was an attempt to collude; to create a rift between Top Rank, ESPN and the fighter," duBoef was quoted by The Athletic.
"They were trying to make us look bad. We're sitting here saying, 'When are you going to call us? When are we going to have a negotiation?' Twenty-seven years in the business, I have never, through Oscar (De La Hoya), Floyd (Mayweather), Manny Pacquiao, managers like Cameron Dunkin, from James Prince to Mayweather Sr. to Al Haymon, I've never seen conduct like that as displayed by the Teofimo representative. Ever," the Top Rank prez added.
Teófimo López steps in, with a furious response
The comments from duBoef came under the radar of Teófimo López, who lashed out at the president on Twitter, retweeting the original tweet from The Athletic's Mike Coppinger which also included a short clip from his interview.
The tweet, however, makes it pretty clear that the 23-year-old is ready to cut ties with his promo company.
"Todd DuBoef you won't have me back. Get ready because we going to war!" Teófimo wrote, "You prick. How dare you try to cock block my Puse (purse) bid with DAZN & whoever else."
"You're done! Thank you Triller for letting the world know I'm next up!" the pugilist added, although, deleting the tweet later on.