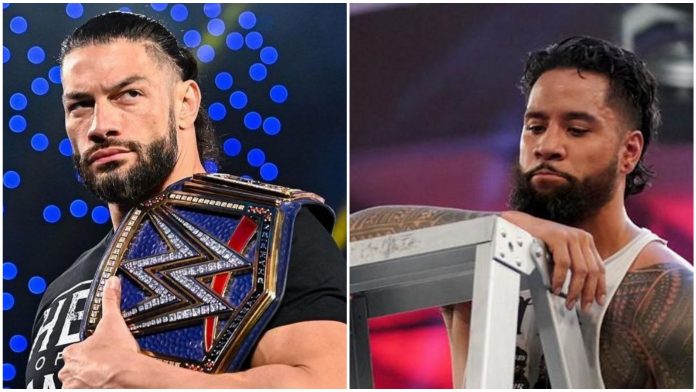 Advertisement - Please Continue to Read Below
WWE Universal Champion Roman Reigns currently has Jimmy and Jey Uso in his corner as part of The Bloodline stable. They are a dominant force now but Jimmy Uso's DUI arrest could have brought some trouble for them. 'The Tribal Chief' recently commented on Jimmy Uso's arrest in an interview with Joseph Staszewski of The New York Post. 
Roman Reigns reveals how he dealt with Jimmy Uso
TMZ reported that Jimmy Uso was arrested for DUI at 10:35 PM Monday, July 5 in Pensacola, Florida, alleged that Jimmy Uso was observed running a red light and going 50 MPH in a 35 MPH zone by police officers, who then proceeded to arrest him and administer field sobriety tests after smelling alcohol on him.
Uso reportedly failed these tests and was arrested and taken to the station where he returned BAC breath test results of 0.202 and 0.205 — considerably above Florida's legal limit of 0.08.
This led to Jimmy's future on SmackDown being uncertain as Vince McMahon harshly deals with such situations but things worked out well and Jimmy had even apologized on social media.
Roman Reigns has a heel persona on-screen who will go to any extent to defend his WWE Universal Champion and had a bitter relationship with The Usos previously while being in a feud with him. However, it turns out that is not how exactly he treats them in reality.
ALSO READ: Sasha Banks reveals her goals in WWE for the remainder of 2021
Roman Reigns sees it as a mistake and turning back on the dear ones will not make him a better human
He said: "We're all human, we're all cynics, we all make mistakes. Instead of what some people might feel you should give up on somebody or maybe turn your back on that type of behavior, that's one way to do it."
Roman Reigns added: "But I don't think that's the way to push through and gain experience or make progressive movements of becoming a better man or a better human. So for me, it was diving into it with great attention, great love and very thorough communication to make sure my family is continually bettering themselves and putting themselves in a position to make better decisions."
The Usos are now set to defend the SmackDown Tag Team Championship against the Mysterios at WWE SummerSlam. While, Roman Reigns will be defending the Universal Championship against 16-time world champion John Cena.