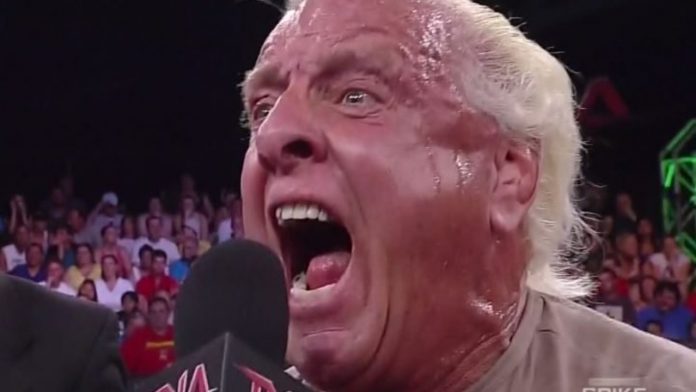 Advertisement - Please Continue to Read Below
WWE legend Ric Flair recently joined Wrestling Inc. Managing Editor Nick Hausman on The Wrestling Inc. Daily and revealed that he was angry with Jim Ross and Shawn Michaels and talked about the reason behind it.
Ric Flair talks about the incident
WWE Hall of Famer Jim Ross was upset with Flair and told The Nature Boy's daughter, Charlotte, about it. Ross had also expressed his displeasure with Flair being angry with him after certain things that the former WWE commentator had said in the latter's 30 for 30 documentary.
During the podcast, Flair expressed his thoughts about a video that he put out after he recovered from a health issue a few years ago. The two-time Hall of Famer had verbally attacked Shawn Michaels in that video, and also was angry at Jim Ross for what the current AEW commentator had said in The Nature Boy's 30 for 30 documentary.
Flair said that he was angry with Hall of Famer Shawn Michaels lashed at him on social media. He had also said strong words to Jim Ross. But, the Naitch admitted that what they were saying were the truth, the harsh truth of life and later apologized for his actions.
Ric Flair said: "But you know, it was the truth. I don't know how to be alone, and that's going back to when I was just a kid. But anyway, we're all good now, and that's all that matters. I've apologized, and I really hurt Jim's feelings. He went to Ashley (Charlotte) and said, 'I'm so upset about your dad being mad.'
He added: "I just can't emphasize enough to people that you can't just go out half cocked, have a drink and start calling people out, that's what I did. I was mad at everybody. Nobody wants to hear the truth."
ALSO READ: Jon Moxley reveals Ric Flair blamed him for getting arrested at the airport
Ric Flair also talked about his friendship with Triple H, Stephanie McMahon, and the rest of the McMahon family.He also revealed how he once had an argument with the current Chief Brand Officer of WWE over his issue of drinking.
Despite of the differences on different occassions, the Nature Boy addressed his friendship with the McMahon family to be "golden" and that they have always been there for him.