George Kambosos Jr, the reigning unified lightweight champion of the world is offering the former champion Teofimo Lopez a rematch at light welterweight in Australia, in the wake of Lope'z comments about DAZN "setting him up" for the defeat which Kambosos believes is "delusional".
Back on 27th November last year, Teofimo Lopez was handed his first career defeat in a shocking turn of events by George Kambosos Jr, the Aussie pugilist who picked up a split decision victory at the Hulu Theater in MSG, New York to become the new WBA (Super), IBF and WBO titleholder at 135.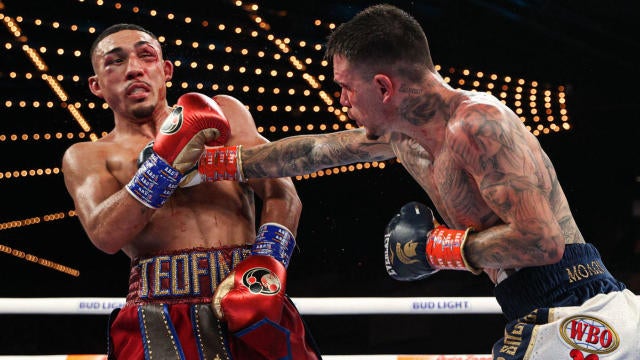 Since the loss, it has been hard for Teofimo to accept the defeat and while "The Takeover" has now shifted to 140, he still believes the Kambosos fight was fixed and it was a "scheme" by DAZN.
"The whole s*** was a scheme. They were with DAZN and I was on the DAZN platform. They gave it to Kambosos because they knew what I was going to do with it," Teofimo expressed to Fight Hub TV regarding the Kambosos fight, "I was going to drop them [vacate], and then it's a longer process for Devin to become undisputed. It's all a game. Everything is already made. I had to see that for myself. They already knew who won even before they announced it. See the tapes." [H/T Boxingnews24.com]
Get yourself back in the gym: George Kambosos Jr to Teofimo Lopez as he offers him a rematch
Knowing what his former adversary opined about their fight, Kambosos Jr responded by saying that Teofimo is delusional about the fight being set up and stated that he is ready to offer him a rematch in Australia, even at 140.
"Like I said to him in the ring after the fight. 'You're delusional, brother,'" Kambosos told Fighthype, "Get off whatever you're own and get yourself back in the gym, because you're a talented kid. I'm not going to disrespect you."
"You need to zone in and move away from certain people. That's a thing of the past. I hope he does great with whatever he does in the future. If you want to fight again let's fight again. Come see me in my hometown now," the Aussie said about the rematch, "I'm always open to doing big fights."
"We'll see. We could do it at 140 no problem. I spar middleweights, so what do I care? Weight is no issue for me. So, we'll do it forever, but I said this can go two ways for him," said "Ferocious" about sparring Teofimo at light welterweight, "You can either bounce back like a champion and we'll have to wait and see or you go down a bad road, which I think could be the case now. Anyway, he'll probably hear this and maybe it motivates him to get back in the gym." [H/T Boxingnews24.com]
Highlights:
George Kambosos Jr is offering Teofimo Lopez a rematch at light welterweight
Teofimo believes his Kambosos defeat was a set up by DAZN
Kambosos calls Teofimo delusional and asks him to get back to the gym for the rematch