Advertisement - Please Continue to Read Below
WWE star Drew McIntyre has become one of the top-tier stars in the company now. During a recent interview, he revealed that British boxing icon and WBC heavyweight champion Tyson Fury is "stalking" him.
Drew McIntyre speaks about a potential fight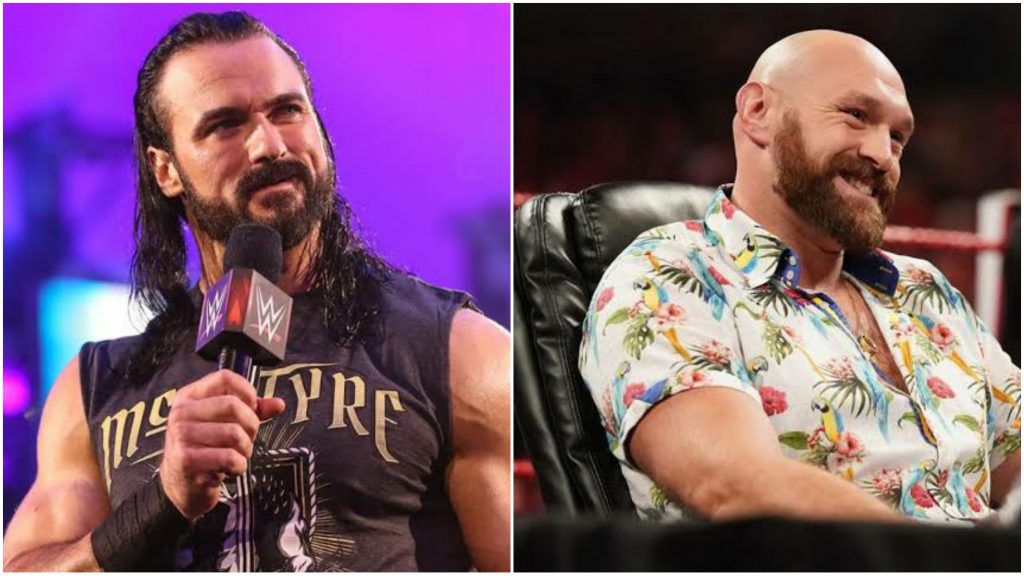 Tyson Fury went on a war with the former Universal Champion Braun Strowman at WWE Crown Jewel. Their match was widely hyped and he had defeated Strowman at the event.
That match had certainly given him a boost to his confidence for working in the squared circle. Apparently now he is eyeing to have a battle with McIntyre.
They have been teasing a fight since McIntyre's victory at WrestleMania 36 when he captured the WWE Championship. The Gypsy King had issued a challenge to Drew McIntyre which he had accepted.
While speaking to The Big Issue, Drew McIntyre revealed that he regularly gets messages from Fury on social media and wondered if he should respond to him.
He said: "Tyson Fury is stalking me. It's the most bizarre sentence. I'd wake up every day and I've got another message on social media from Tyson Fury. Maybe I should answer him."
Drew McIntyre had scripted history at WrestleMania pay-per-view last year as he became the first-ever British WWE Champion in history.
He went on to capture the title for a second time when he defeated Randy Orton on Monday Night RAW. His reign came to an end when he lost against The Miz at WWE Fastlane.
Drew McIntyre also said that when he would win the WWE Championship again, he would fly to his home and visit Tyson Fury's house to set up a match between them.
He said: "When I'm able to win back my WWE title we'll fly back home, get an open top bus at the top of Scotland. I'm going to make my way down Scotland, [and have a] big celebration all the way down into England. Get to Fury's house, set ourselves up a little match."
The Scottish Psychopath went on to the laud the Gypsy King. He said that Fury has a genuine love for wrestling and he's such an entertainer. He also teased the match to be on 'Battle of Britain' theme.
McIntyre has a firm belief that the match could set a record by matching the attendance of SummerSlam 1992 when 80,000 fans were in attendance at Wembley Stadium in London.
It is to be seen if we would ever get to see such a high intensity fight. Whenever it happens fans would be certainly delighted.