Birmingham-raised midfield maestro Jude Bellingham is being touted for a move away from Borussia Dortmund. The Bundesliga giants, who signed him from his boyhood club Birmingham City in 2020, were always likely to be a stepping stone to even greater things for Bellingham. And Dortmund are struggling to keep pace with Bayern Munich at domestic level whilst also lagging behind in Europe, due largely to the sale of star striker Erling Haaland to Manchester City.
It's highly likely that Bellingham will be the next high-profile departure for Dortmund, who will look to maximise the full value of his services before his contracts enters its final phase. Bellingham was one of England's brightest stars at the 2022 World Cup, despite their semi-final exit to France. Subsequently, only a handful of clubs would likely be able to afford Bellingham's transfer fee. Below, we assess the potential destinations for the 19-year-old.
Real Madrid
Spanish La Liga giants Real Madrid are quietly confident that they can entice Bellingham to swap the Westfalenstadion for the Bernabeu Stadium. Their pitch to Bellingham and his advisors is that their club is the best in Europe for young talent – and it's difficult to argue in many respects. Real's hierarchy has invested big sums in bringing high-potential names to the club, namely Vinicius Junior, Eduardo Camavinga, Aurelien Tchouameni and Federico Valverde.
Although no official asking price has been released, reports suggest Dortmund are looking for a fee of around £130m to secure Bellingham's signature. Real are probably the only Spanish club that could afford such a figure right now, with Barcelona still very much in recovery mode after a difficult time off the field.
There is still a sense of glamour and grandeur that surrounds the Real Madrid jersey. The "Galactico" tag may not be as prominent today as it was two decades ago, but it still means a lot to be a star for this team.
Liverpool
Liverpool boss Jurgen Klopp was recently quizzed about the club's prospects of signing Bellingham. Klopp admitted the Reds would be "stupid" not to consider him as an option when they seek midfield reinforcements either in January or this summer.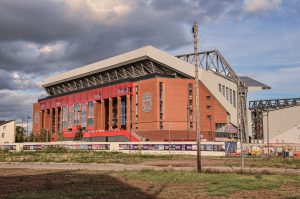 However, there is a sense that Liverpool's perceived transfer interest may be something of a 'semi-bluff'. This is a concept devised in the poker scene, whereby a player bets big with the intention of their opponent folding. However, in the event their opponent calls their semi-bluff, they still have some outs to win the hand with. It's one of the most talked about terms in the A-Z glossary of poker and it is behavior that many elite-level football clubs adopt in the transfer market today. They do so by making their intentions known, with the aim of flushing out interest from other clubs. Do Liverpool really have £120m to spend on Bellingham? Or are the Reds trying to see how deep their rivals' pockets may be?
With Jordan Henderson not getting any younger, it's true that Liverpool will need a new midfield general in the next 12 months. Whether Bellingham and his advisors feel a return to English football is the right thing for his career remains to be seen, as Real Madrid are offering Bellingham a chance to become their next Galactico away from the glare of the British media.
Manchester City
It's also impossible to discount Manchester City from the negotiation table for Jude Bellingham. With a virtual bottomless pit of money to spend, City and Pep Guardiola could comfortably afford the £120m-£130m transfer fee, but it depends whether Bellingham would see a role for himself in the City squad.
Interestingly, City could see stalwarts Ilkay Gundogan and Bernardo Silva depart the Etihad Stadium at the end of the 2022/23 campaign. These are departures that would leave City needing a new heartbeat in the centre of their midfield. It's also worth noting that City's hierarchy has an active and healthy working relationship with Bellingham's current employers, Dortmund. City have dealt with Dortmund regularly in recent times, having acquired Haaland and Manuel Akanji.
It does not look like any other club will have the growth path or the finance to entice Bellingham in the coming months, so it will be fascinating to see which way he and his advisors go, especially after taking a progressive switch to Dortmund in 2020. It's clear Bellingham is a player that knows what he wants from his career.