Advertisement - Please Continue to Read Below
The Bushwhackers tag-team comprising of Luke and Butch had entertained the fans for three decades while being in the pro-wrestling industry. Mainly, known for their stint in WWF(now WWE), Luke and Butch are set to reunite after 20 long years of wait.
The Bushwhackers would tour the United States in 2021
The Bushwhackers will go on the United States tour for the first time in twenty years. Scott Wilder Promotions made the announcement on their Facebook page. The team will tour the United States in next year's Spring.
The captioned read, "WRESTLING FANS ARE READY FOR THE RARE AND SOUGHT-AFTER PHOTO OP AND AUTOGRAPH.
PROMOTERS: BOOK THE ONCE IN A LIFETIME OPPORTUNITY. ( DATES ARE FILLING UP) Spring 2021 is Gonna be Bloody Great Mates"
Check out the post below:
https://www.facebook.com/Scottwilderpromotion/photos/a.800788029978878/3871052889619028/?type=3
Luke currently lives in the United States and he has been active in doing public appearances. He also goes on tours and is doing virtual signings.
Along with former rival, Typhoon of Natural Disasters he was recently witnessed doing virtual signings on a Facebook group called, The Asylum, amid COVID-19 pandemic.
He also wrestled his last match in September 2019. He had teamed up with Shortsleeve Sampson and defeated Team Genesis in Canada.
However, Butch lives in his homeland of New Zealand after he shifted in 2003. He had retired back in 2001 after sustaining a serious neck injury.
ALSO READ: The Undertaker shares his thoughts on Roman Reigns-Jey Uso bloodline feud
The Bushwhackers were a unique tag-team having a comical approach. They acted all bizarre and funny while they made their entrance to the ring.
They used to lick each other, the fans and as weird as it sounds, the opponents too. Luke and Butch would march to the ring, swinging their flexed arms.
These made them distinguished from other teams. while gaining popularity among the fans, especially the children.
Luke and Butch had their debut bout on a matinee show in 1988 when they faced The Bolsheviks(Boris Zhukov and Nikolai Volkoff). They have had quite a run in the company and have the legacy of their own.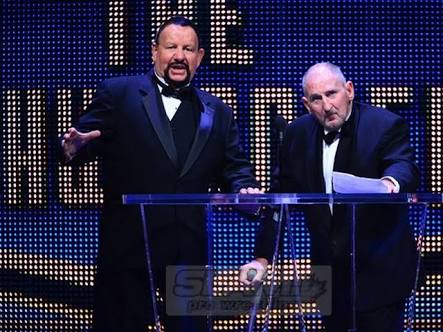 The Bushwhackers were inducted to WWE Hall of Fame in 2015. They were recently inducted to the Professional Wrestling Hall of Fame and Museum in 2020 as well.
If you like reading about MMA, make sure you check out MMAIndia.com
Also, follow India's biggest arm wrestling tournament at ProPanja.com
Also Read:
https://www.thesportsroom.org/sasha-banks-greatest-wrestler-of-all-time/