Rafael Nadal's quest for a maiden title in Paris Masters met a heartbreaking end in a 4-6,5-7 loss to Alexander Zverev in the semifinals.
This marks the sixth time that top seed Nadal has crashed out in the last four of the coveted tournament and while Rafa has conquered much of the tennis world, the Bercy arena remains one of the few places that still don't have Rafa's name on the winners' list.
- Advertisement -
Zverev on the other hand would face Daniil Medvedev who made light work of Milos Raonic in a 6-4,7-6(4) win.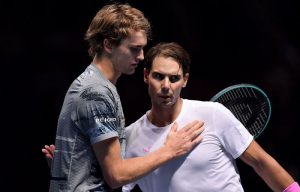 "It has been a positive tournament for me," says Nadal despite the loss.
The top seed, who recently became the 4th player to register 1000 wins, lost steam in the clash against the German and was beaten comfortably in straight sets.
However, instead of being crushed over the entire episode, Nadal maintained a positive outlook about Paris masters and the coming ATP Finals.
"It has not been a bad tournament. I spent hours on court. Of course, I wanted to win the tournament, but it's always difficult," Nadal said.
A 6-4, 7-5 win over Nadal puts @AlexZverev in the final.#RolexParisMasters pic.twitter.com/f378UzvznN

— ROLEX PARIS MASTERS (@RolexPMasters) November 7, 2020
"But I had the right attitude during the whole event, I think, fighting in every match. That gave me the chance to play four matches that I think will be helpful for London."
"I think he's playing great. He won two straight tournaments and played well here again. He's in the final serving huge," said the Spaniard of Zverev, who won back-to-back titles in Cologne last month
Also read: Manchester United secure 3-1 victory over Everton with a last-minute strike from Edinson Cavani
It remains imperative for Nadal to maintain this positive demeanor ahead of the year-ending ATP Finals due to start on the 15th of November as the Spaniard chases a maiden win in London.
It's all on the line tomorrow 🏆

Full OOP 👉 https://t.co/ymaBwDpNHF#RolexParisMasters pic.twitter.com/qDixSlgmhP

— ROLEX PARIS MASTERS (@RolexPMasters) November 7, 2020
Zverev and Medvedev engage in a battle of NextGen's –
Alexander Zverev looked positively thrilled about his win on World Number 2.
"It's never easy to play Nadal. Obviously, the record says it, before this match I was one in five, so obviously extremely happy to be in another final of a Masters series. It's great and tomorrow is going to be another difficult one," Zverev was quoted as saying by the tournament's official website.
On the other hand, Medvedev battled past Raonic earlier on Saturday to reach his first final of the season. The Russian secured his third victory from as many meetings with the Canadian.
Zverev currently enjoys a 5-1 win record against Medvedev but the Russsian world number 5 seems unperturbed by it.
"I always take it 50/50. There are two players, only one can win. It's never easy," said Medvedev ahead of the final showdown.
If you like reading about MMA, make sure you check out MMAIndia.com
Also, follow India's biggest arm wrestling tournament at ProPanja.com
Also read:
Beaten but qualified-Diego Schwartzman qualifies for ATP Finals despite the loss in Paris Masters