CM Punk vs Eddie Kingston is a high-intensity collision that will go down at AEW's upcoming Full Gear pay-per-view on Saturday, November 13 at at the Target Center in Minneapolis, Minnesota. Pro-wrestling fans are set to get a treat as they will witness the highly-anticipated CM Punk vs Eddie Kingston. They will lock horns for a match that took as long as 15 years to materialize and the platform will be All Elite Wrestling. A very few people know about the animosity which they share and it dates back to their days in the independent circuit. Finally, the feud has come to fruition and CM Punk vs Eddie Kingston is a big-ticket battle.
CM Punk recently made his epic return to pro-wrestling after being away for seven long years. He defeated Darby Allin at All Out in September. Punk, who is still undefeated has picked up wins over Matt Sydal, Powerhouse Hobbs, and Daniel Garcia, and Bobby Fish, who recently made his in-ring debut on AEW Dynamite.
CM Punk and Eddie Kingston have finally sparked the feud
It was at last week's Rampage, Kingston interrupted Punk during a backstage interview after the former lost AEW World Championship Eliminator tournament match against Bryan Danielson. This action from the 'Mad King' did not sit well with Punk and he called out Kingston on this week's Dynamite. 'The Second City Saint' demanded an apology and on the latest edition of Rampage, Kingston finally responded to Punk.
Kingston denied apologizing to Punk and further said that he had no sympathy for Punk and his ego. He added that he idolized CM Punk, but he claimed people like Punk, Homicide, and Samoa Joe judged him backstage when he started wrestling because of his appearance. Punk replied that he wasn't wrong to expect greatness from Eddie Kingston 15 years ago, but it was his fault for continuing to expect it from The Mad King, calling him a 'bum'.
Eddie Kingston then said that no one in the AEW locker room wanted him there. He then challenged CM Punk to a match at AEW Full Gear that Punk accepted. Kingston told him to quit for another 7 years and leave after this match. Punk had heard enough and headbutted Kingston which ended in a brawl.
ALSO READ: Charlotte Flair and Becky Lynch: From best friends to bitter enemies?
Eddie Kingston is a perfect rival for CM Punk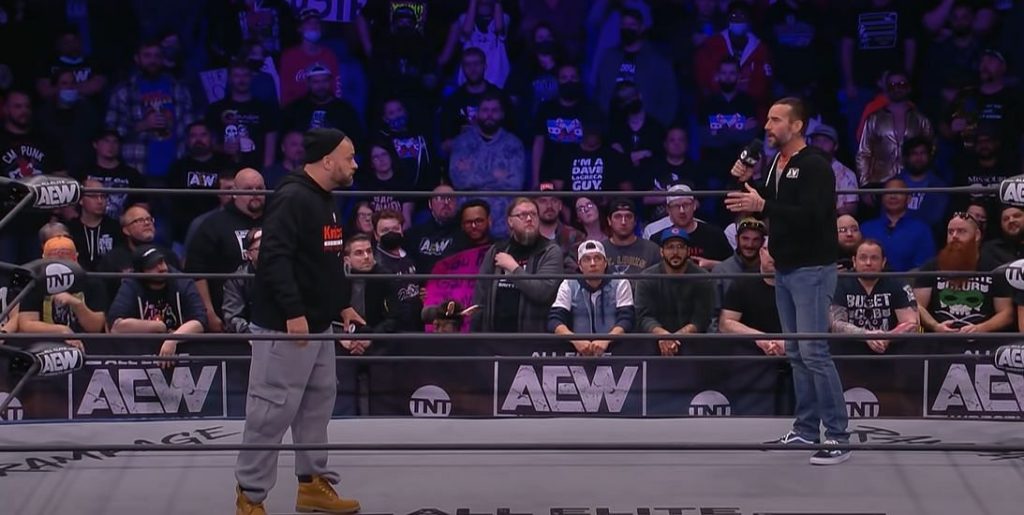 In pro-wrestling, storytelling is an important aspect, and as it turns out CM Punk vs Eddie Kingston could be one of the best feuds that will narrate the personal grudge, battle of egos and an intriguing storyline. Punk has mostly fought against opponents without any storyline but now he has a real test in front of him. Eddie Kingston is a hard-hitter and he has even matched Punk's promo skills if he hadn't outdone him. Kingston has what it takes to record Punk's first defeat in the promotion and it could make a huge star out of Kingston.
CM Punk vs Eddie Kingston could be the Match of the Night at Full Gear PPV
The pay-per-view card is stacked with some massive matches but CM Punk vs Eddie Kingston could stand out as the fan favorite. Given the storyline and the wrestling style the stars possess, they could certainly tear the roof down at Target Center. AEW plans Full Gear to be a grand success and such an enticing match on the card would keep the fans at the edge of their seats.
Highlights:
It took 15 years for the fans to see the match between CM Punk and Eddie Kingston
CM Punk vs Eddie Kingston will take place on Nov. 13