Advertisement - Please Continue to Read Below
The New Day stable consisting of Big E, Xavier Woods and Kofi Kingston got broken up during the 2020 WWE Draft as Woods and Kingston were drafted to Raw and Big E remained on SmackDown as he started his singles run in WWE. During New Day's Feel the Power podcast, Big E revealed the original plans and mentioned about a member who was supposed to be a part of the stable.
Big E says Byron Saxton was the originally planned member
During the podcast, The New Day, who ended their six-year run in WWE recalled the formation of the stable and talked about the original plans for it. They were joined by WWE commentator and former wrestler Byron Saxton.
Big E then revealed that he, Saxton and Woods were the actual members planned for the stable. But,it was changed when the stable made their debut back in 2014. He and Woods are great talkers when handed mics and it is evident from their promos.
He remembered their time in WWE's old developmental territory, FCW. The promo practices helped them get the idea for New Day and that altered their career.
Big E said, "The plan was a faction of me, Bryan Saxton, and Woods when we were in FCW. We got to do it in promo practice. We were excited about it but it never saw the light of day on any shows. That was in 2014, which is what sparked the idea for The New Day. Honestly, if we had not done that when we were in FCW, who knows where my career would be or where Woods would be. Kofi would still be fine, I'm sure."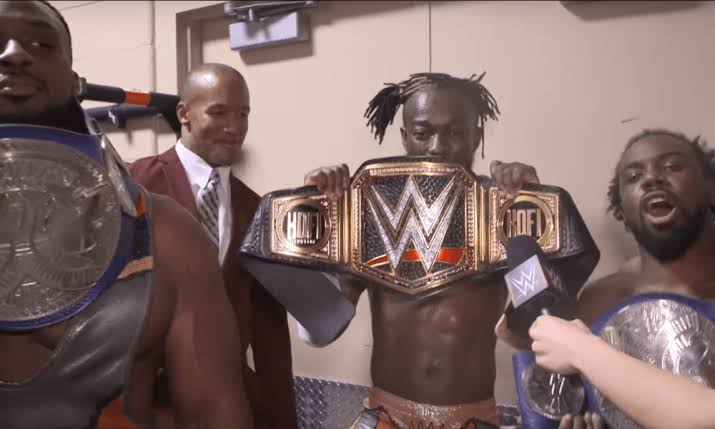 Woods, who was a newcomer at that time discussed the plans and contrasts of all the characters of the members.
Woods said, "The plan was 'The People's Liberation of American Nationalism'. It was a situation where we all tried to stay in one certain lane. I was the smallest guy in the group, so I was the extreme hothead because I would be the one yelling. E was the muscle. Saxton was the calm and collected one."
The New Day have been one of the most decorated factions of all time, also capturing several championship golds. Currently, Kofi Kingston and  Xavier Woods are the Raw Tag- Team Champions while on SmackDown, Big E is trying to head up through the ranks and eyeing for singles' championships.
If you like reading about MMA, make sure you check out MMAIndia.com
Also, follow India's biggest arm wrestling tournament at ProPanja.com
Also Read:
Rhea Ripley outlines how Triple H has motivated her from past to present
https://www.thesportsroom.org/the-rock-thanks-the-undertaker/