Ajax's stalwart defender, Daley Blind, collapsed on the pitch while playing in a friendly against Hertha Berlin.
Former Manchester United man has been plagued by heart problems for the past 1 year and the latest collapse indicates that all is certainly not well. Blind was diagnosed with heart muscle inflammation in December after he suffered a dizzy spell in a Champions League game with Valencia. And while he did make a brief return to the field, the recent events suggest that the condition remains grim.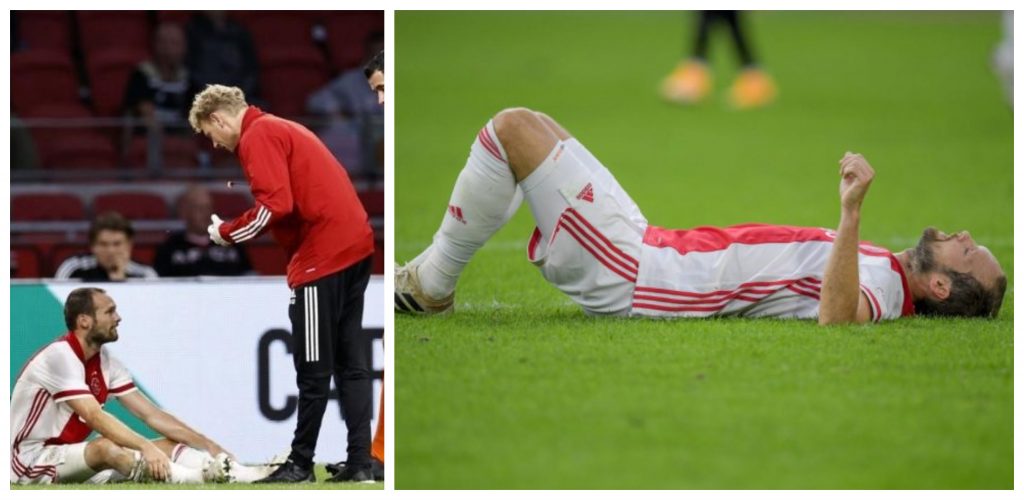 The "heart" of the matter
Ajax were up against Hertha Berlin in a pre-season friendly and while they did seal the fixture 1-0, the win was marred by Daley Blind's unfortunate collapse.
In the 78th minute of the match, the star defender was seen clutching his chest, before collapsing on the ground with no one around him. For a moment, the entire event seemed headed for the worst and his Ajax teammates expectedly rushed to his aid. The team medic too had quickly rushed to the side of the defender in case of the situation escalating.
But to the huge relief of everyone involved, Blind did seem responsive and was back on his feet, before being subbed off immediately.
Ajax boss Erik Ten Haag said afterward: 'Daley Blind's ICD (implantable cardioverter-defibrillator) went off. 
'He got subbed off straight away and he is feeling okay now, he is feeling fine. We will do research about this now.' 
Ajax star had earlier been fitted electronic device for his return in February and the Dutch was positively beaming about his return to competitive football.
Also Read:https://www.thesportsroom.org/records-fall-as-bayern-wins-ucl-trophy/
'I am really happy to be back on the pitch,' Blind told Fox Sports Netherlands.
There is no better feeling! 🙌🏻⚽️ Big Thanks to my wife, family, friends, everyone of the medical team, and everyone who supported and believed in me. Thank you! #PositiveMindset pic.twitter.com/dpANfwcyvE

— Daley Blind (@BlindDaley) February 12, 2020
'I had a little bit of tension beforehand because you don't know how it will go.
'The doctor really needed to hold me back and step on the brakes because I wanted to get back ASAP. I wasn't scared at all, I wanted to get back on the pitch as fast as possible.' Blind added.
Ajax transfer news-
Considered to be the football academy for future stars, many of Ajax's stars are set to leave the Cryuff arena in the summer transfer window.
Leicester wants Ajax left-back Nicolas Tagliafico to replace Chelsea-bound Ben Chilwell, but Gianluca Di Marzio claims the Foxes face competition. Serie A side Napoli and Barcelona are also said to be keen on the Argentina international.
Donny Van De Beek too has been linked to the Catalans and Barcelona will have to battle it out with Man U to procure the services of the young midfielder.
If you like reading about MMA, make sure you check out MMAIndia.com
Also, follow India's biggest arm wrestling tournament at ProPanja.com
Also Read:
'Messi'ah to leave his shrine?: Lionel Messi announces his intention to terminate contract with Barcelona