The Gonzaga Bulldogs have finished the 2021 West Coast Conference  Tournament as champions, defeating BYU Cougars in the championship game and ending the season with an undefeated 26-0 record.
In the final match at Orleans Arena in Las Vegas, Gonzaga thrashed BYU 88-78 to defend their conference title, and becoming champions for the 19th time.
The win also sets their record this season to 26 wins and no losses, becoming the first team to have an undefeated WCC season since Kentucky in 2015 and became the 16th team ever to enter the NCAA Division I tournament unbeaten.
Gonzaga executed brilliant offensive-defensive play in the 2nd half to pace ahead of BYU
Despite trailing 53-41 after the first half, Gonzaga went onto a scoring spree in the second, outflanking BYU 47-25 to finish with a ten-point surplus.
Gonzaga guard Jalen Suggs topped the scoreboard for the champions with 23 points, 5 rebounds, and 5 assists, while Corey Kispert contributed 17 points with 5 rebounds and 2 assists. Joel Ayayi scored 18.
Coming off the bench, Trevin Knell led BYU by landing 20 points, 4 rebounds and 1 assist, along with Alex Barcello scoring 15.
"We needed a game like that," Gonzaga coach Mark Few said in the post-game interview, "we had some adversity and got punched in the face."
"They really took the fight to us, especially in that first 20 minutes. We couldn't stop them. They had us on roller skates. They were outcompeting us and beating us to balls but also just executing their offense and making big shots," added Few.
BYU were the ones going into early offensive, clocking 53 points in the first 20 minutes of play with 68% shots from the field along with three turnovers. However, Gonzaga focused on more defensive play in the second, which in turn powered their rally up in the court with Kispert landing a couple of big shots, followed up with Suggs taking control of the scoring.
"When the lights are shining the brightest and more people are watching, I always want to go out and make plays. More importantly, I wanted to come out with a win," said Suggs, who even showcased some marvelous blocking towards the end of the match.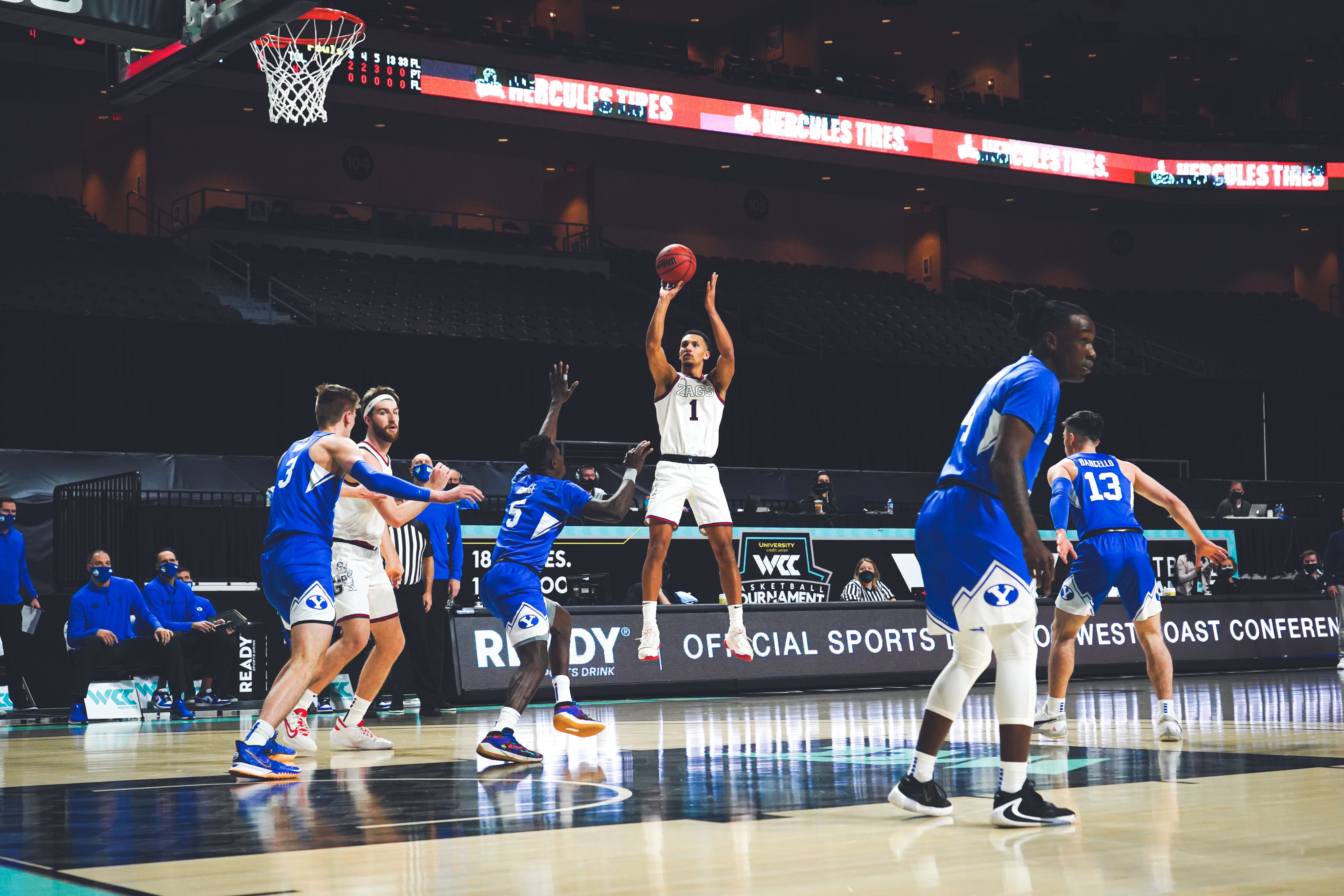 "I told Coach with like six, seven minutes left, we're not walking out of here without a championship. I'm gonna get it done," the 19-year-old freshman added. (H/T ESPN)
Check out the full 2021 March Madness schedule here.