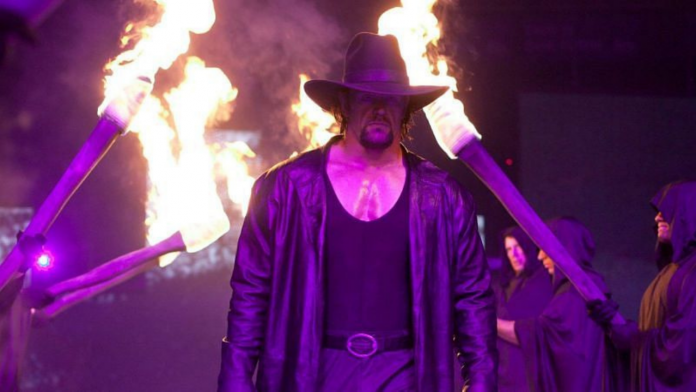 Advertisement - Please Continue to Read Below
The Undertaker has one of the most iconic gimmicks in pro-wrestling history. During a recent conversation with panelist Matt Camp on WWE The Bump, he opened up on his favourite persona which he liked to portray during his thirty-year long stint in WWE.
The Undertaker talks about 'The Deadman' and 'The American Badass' persona
The Undertaker had debuted at Survivor Series 1990. He was the mystery partner of the Million Dollar team for the traditional 5-on-5 elimination tag-team bout and was introduced to the WWE Universe by 'The Million Dollar Man' Ted DiBiase.
Originally, The Undertaker had portrayed 'The Deadman' persona and was seen as the Western mortician dressed in a trench coat, gray-striped tie, and gray-ringed, black Stetson hat with gray gloves and boot spats.
He used a version of Frederic Chopin's Funeral March as his entrance theme and later used the popular WWE theme composer, Jim Johnston's Graveyard Symphony.
During the conversation, he said that his favourite one was The Deadman persona. However, to freshen up the air, he had a brief stint portraying The American Badass persona, when he returned in 2000.
He said, "I mean the traditional Undertaker, obviously, because that's the one that first debuted. But probably the most fun was the American Badass because I could talk however I wanted. It was perfect for the time period that we were in. But yeah, I think the original Deadman was my favorite."
Speaking about The American Badass gimmick, it was completely different from the gimmick that he portrayed in his early days.
He returned as a biker, making his entrance to the ring on a motorcycle, wearing sunglasses and bandanas.
His entrance music was replaced with popular rock songs of the time, like Limp Bizkit's "Rollin' and Kid Rock's "American Bad Ass" (from which the name of The Undertaker's new gimmick originated).
However, the opening bell toll of The Undertaker's original theme remained the same.
Bruce Prichard, the WWE producer had previously revealed that The Undertaker wanted to be "the biker, he wanted to be the guy that he is in everyday life."
The Undertaker would be completing his thirty years in WWE and what a journey it has been for 'The Phenom'.
His works will remain immortal for the upcoming generations and will go down in the history as one of the greatest wrestlers of all time.
WWE will bid adieu to him as his Final Farewell is scheduled for Survivor Series on Sunday, November 22.
If you like reading about MMA, make sure you check out MMAIndia.com
Also, follow India's biggest arm wrestling tournament at ProPanja.com
Also Read:
https://www.thesportsroom.org/the-undertaker-almost-beat-shawn-michaels/