Golden State Warriors ushered into their golden era under Steve Kerr by making to five straight finals from 2015 to 2019. In a grim contrast, the team slid to the bottom spot in the conference table last season, and coach Kerr admits that the dismal season was in fact more enjoyable than their last finals run, which culminated in a defeat to Toronto Raptors.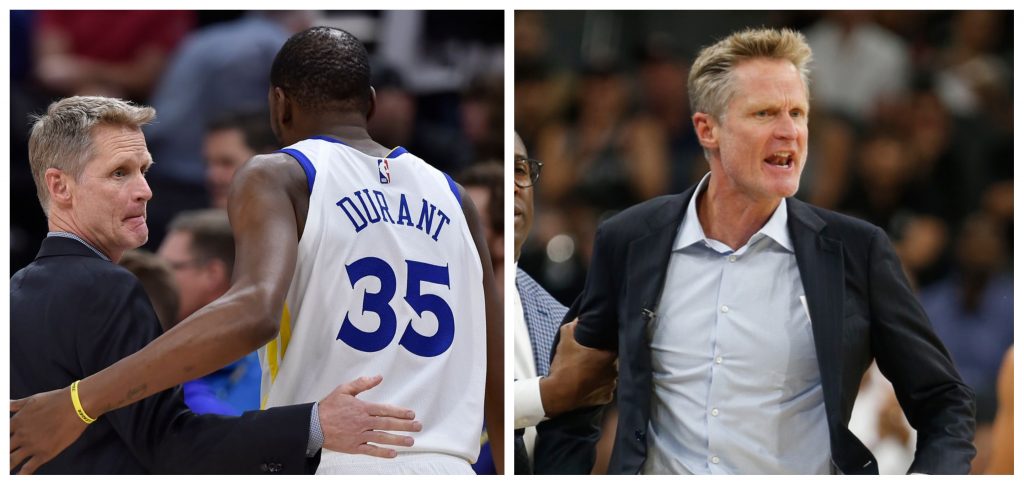 The Warriors were in search of a three-peat in the 2018-19 season and evidently the pressure caught up with them along with off the court issues.
Kevin Durant's decision to leave as a free agent was not taken well by Draymond Green. The duo got into a verbal altercation following their overtime loss to LA Clippers.
Instances like this prompted Kerr to term the season as 'difficult'. While appearing on  "Real Ones" podcast with Logan Murdock and Raja Bell, he claimed that the first four years of coaching were fun, but the 2018-19 season, despite making it into the finals, was tedious.
"The first four years of our run — the coaching was way more fun, We were joyful and everything was really simple and no agendas. And then that last year, things kind of went haywire. Even though we went to the Finals, it was difficult,"
"But what you want is a good vibe. You want to look forward to going to the gym every day and seeing everybody. That last year was tough — when we lost to [the] Toronto [Raptors] in the Finals," Kerr summed up the disastrous season clad with the finals appearance
The former Bull also added that there were several incidents off the court that was difficult to deal with.
While Kerr did not specifically take Kevin Durant's name, the incidents are linked to the former Warriors man. Kerr and Durant were not on the best of terms and their relationship strained over the course of the 18-19 season.
"There was a lot going on, some that you know about and some that you don't. That was very difficult."
Kevin Durant responded on Twitter to this particular comment made by Kerr on the podcast.
Kerr prefers the dismal 15-50 season over the finals run
With Kevin Durant headed to Brooklyn Nets, Klay Thompson and Steph Curry on the injury list for the season, Kerr had a hard time navigating the finalists last season.
The franchise ended in the bottom place with the worst record in the league, but the coach still rates it higher than the previous season to it.
"I enjoyed last season — when we had the worst record in the league — more than I enjoyed that last season when we went to the Finals. We had young guys last year who were trying every day, working hard. We had a great energy, great spirit, great camaraderie. Losing sucked," Kerr said
Also Read: