Advertisement - Please Continue to Read Below
Ronda Rousey shook the world with her debut in WWE and in a recent interview, Natalya discussed the chemistry she and Ronda Rousey had.
Ronda Rousey, coming from the MMA background, her skills and in-ring ability was in doubt. In comes Natalya, who belongs to the legendary Hart family. She trained the former UFC Champion and eventually they both shared the squared circle, in what can be called as one of the best matches in WWE history.
Ronda Rousey had always loved and had a connection with WWE. She used the nickname, "Rowdy", inspired from WWE legend, Roddy Piper. She had previously made an appearance at WrestleMania 31 with The Rock.
Ronda Rousey made her debut at the "Grandest Stage of Them All", WrestleMania 34 in 2018. Fans were impressed with the performance she put up during the match and with the quality of wrestling. In a nutshell, fans were entertained.
Ronda Rousey went on to feud with Alexa Bliss and faced her Raw Women's Championship at SummerSlam. Ronda defeated Bliss and won her first major title in WWE.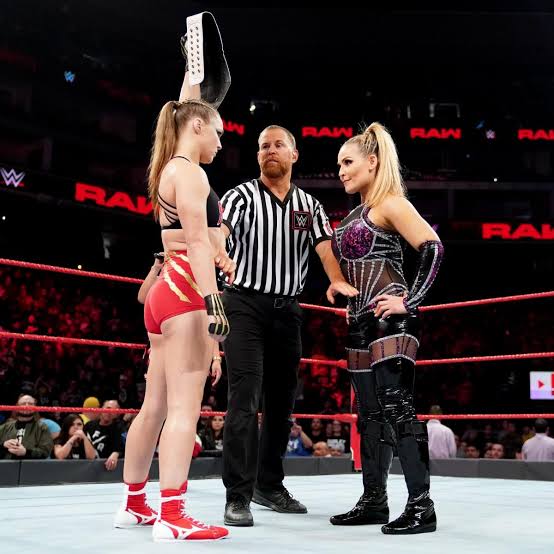 Ronda Rousey even faced her trainer and long time friend, Natalya on an episode of Monday Night Raw. On this note, during the interview, Natalya said,
"I've talked about that match being one of the most special matches of my career and I know it's one of Ronda's. It took everything Ronda had learned from me, from Triple H, from Stephanie McMahon, from Kurt Angle, from working with Sasha Banks and all these different people.
All the stuff Ronda had learned about pro wrestling in the last year in WWE, she had to take all that, with no time to plan or prepare. Literally her music hit, my music hit and it was just two pros in the ring looking at each other going "here we go'."
"Ronda and I just had that chemistry, we had that connection", says Natalya about Ronda Rousey
Sometimes, wrestling means more than what is shown. Behind the scenes, there is a different scenario. A lot of passion, dedication and hardwork goes into a match. Similarly, Natalya recalls how much emotional the match was for both of them, specially for Ronda Rousey.
Natalya said, "I loved that when we had that match she was crying, she was crying in the ring because of emotions when we were wrestling each other, because of what it meant to her, because of what the story of the match was she didn't want to hurt her friend. We got backstage and she was crying.
That's who Ronda is, she's emotional, she cares, sometimes she cares too much. She's passionate and that's what I think really resonated with a lot of the audience and it resonated with me."
Ronda Rousey had a remarkable undefeated streak. However, her championship reign of 231 days ended when she faced her first loss in WWE against Becky Lynch.
Natalya currently is at Monday Night Raw. Natalya and Ronda Rousey had showcased one of the most memorable matches. However, Natalya was distraught that she had only one opportunity to face Ronda Rousey in the ring.
If you like reading about MMA, make sure you check out MMAIndia.com
Also, follow India's biggest arm wrestling tournament at ProPanja.com
WWE fans furious at Velveteen Dream, want the wrestler fired from NXT