UFC lightweight champion Khabib Nurmagomedov is an undefeated Pro-MMA fighter who has amazing wrestling and sambo background and has won the world sambo championship twice in his life.
Nurmagomedov was born on 20 September 1988 and is a Russian professional mixed martial artist. He is signed to the Ultimate Fighting Championship (UFC) where he is the reigning UFC Lightweight Champion. With 28 wins and no losses, he holds the longest active undefeated streak in MMA. As of 23 October 2020, he is 2nd rank pound-for-pound fighter on the planet.
Nurmagomedov is the first fighter of Islamic faith to win a UFC title. A two-time Combat Sambo World Champion, he is trained in sambo, judo, and wrestling. His style of grappling has made him one of the most dominant athletes in the history of MMA. Nurmagomedov is the most followed Russian celebrity on Instagram, with 22 million followers.
Khabib Nurmagomedov is all set to defend his lightweight title against Justin Gaethje at UFC 254 on October 24.
Khabib Nurmagomedov Net Worth
Khabib has an estimated net worth of $30 million. He made $2 million for Mcgregor fight and $6 million for Dustin Poirier fight. Nurmagomedov is also reportedly guaranteed $10 million for his fight against Gaethje at UFC 254.
Khabib Nurmagomedov UFC Record
Khabib Nurmagomedov has a PRO-MMA record of 28-0-0. He has fought 28 matches. In which he won all 28 fights with no losses.
Khabib Nurmagomedov Next Fight
Khabib will Defend his lightweight title against Justin Gaethje at UFC 254 on October 24. It will be held behind-closed-doors at the Flash Forum in Abu Dhabi.
Khabib Nurmagomedov Father
Abdulmanap Nurmagomedov is the father of UFC lightweight champion Khabib. Abdulmanap died at the age of 57 as he lost the battle against coronavirus.
Khabib Nurmagomedov and Conor McGregor Rivalry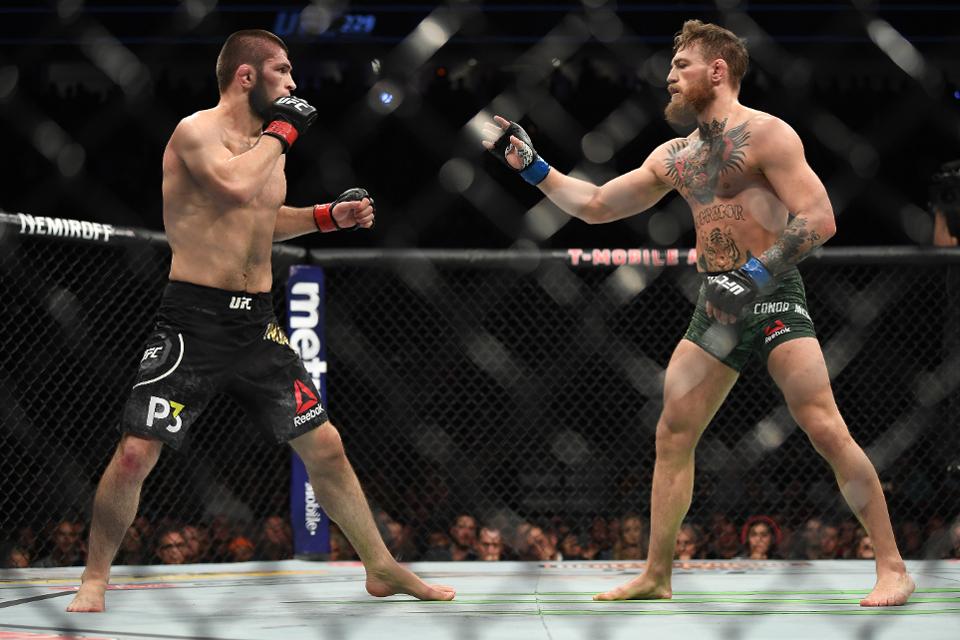 On 3 April 2018, Khabib and Artem Lobov had a minor altercation, in which Nurmagomedov cornered Lobov. Lobov is known to be close to McGregor, with whom Nurmagomedov has had altercations and trash talk exchanges. The two groups have a lengthy history of insults and confrontations.
On 5 April 2018, during promotional appearances for UFC 223, McGregor and a group of about twenty others were let into the Barclays Center by credentialed members of his promotional team. They appeared to confront Nurmagomedov, who was on a bus leaving the arena with "red corner" fighters for UFC 223 on it, such as Rose Namajunas, Al Iaquinta, Karolina Kowalkiewicz, Ray Borg, and Michael Chiesa. McGregor ran up alongside the slowly moving bus and then ran past it to grab a metal equipment dolly, which he then threw at the bus's window, before trying to throw other objects in the vicinity.
Chiesa and Borg were injured by the shattered glass and sent to the hospital. They were soon removed from the card on the advice of the NYSAC and the UFC's medical team. Lobov was also pulled from his fight for his involvement in the dispute.
On Friday, 3 August 2018, UFC announced that Khabib Nurmagomedov would make his first defense of his lightweight title against Conor McGregor at UFC 229 on 6 October in Las Vegas. In the fight, Khabib Nurmagomedov defeated McGregor in the fourth round via submission. After the contest, Nurmagomedov scaled the Octagon and tried to attack McGregor's teammate Dillon Danis, which resulted in a brawl between the two teams. The event drew 2.4 million pay-per-view buys, the most ever for an MMA event.
ALSO READ: