After gracing the dressing rooms of European heavyweights such as Real Madrid and Bayern Munich, James Rodríguez embarks on a new journey in the English top-flight with Everton. On his signing for the Premier League side, the Colombian celebutante unites with none other than Carlo Ancellotti, for the third time in his footballing career.
After two La Liga and two Champions League silverware at the Spanish capital, James Rodriguez joined Everton on a free transfer, signing a two-year-long deal at the Liverpool-based club, which appointed Carlo Ancelotti for the managerial role last season.
ALSO READ: Romelu Lukaku, and a 10-year long drought of silverware
The attacking midfielder made his debut for Everton in their 2020-21 Premier League opener against Tottenham on 13th September, in which the club also snatched a 1-0 away victory.
For James, his arrival at Goodison Park will be his third get-together with Ancelotti, under whom he has played at both the La Liga and Bundesliga giants.
There have been several examples of player-manager reunions in the history of the game. In recent times, the European football scene has seen the same.
Two of the most prominent are the switch of Pep Guardiola from Barcelona to Bayern Munich in 2013, and Thiago following up behind his gaffer. Gonzalo Higuaín has also received the mentorship of Maurizio Sarri thrice, in Napoli, Chelsea and Juventus.
2014: A young James Rodríguez arrives at Carlo Ancelotti's Real Madrid
In 2013, the Italian arrived at the Santiago Bernabéu as a successor to José Mourinho. A year later, he picked a 22-year-old Colombian attacking midfielder from Ligue 1 side AS Monaco for a transfer fee in the region of £63 million, after his impressive spell in the 2014 FIFA World Cup.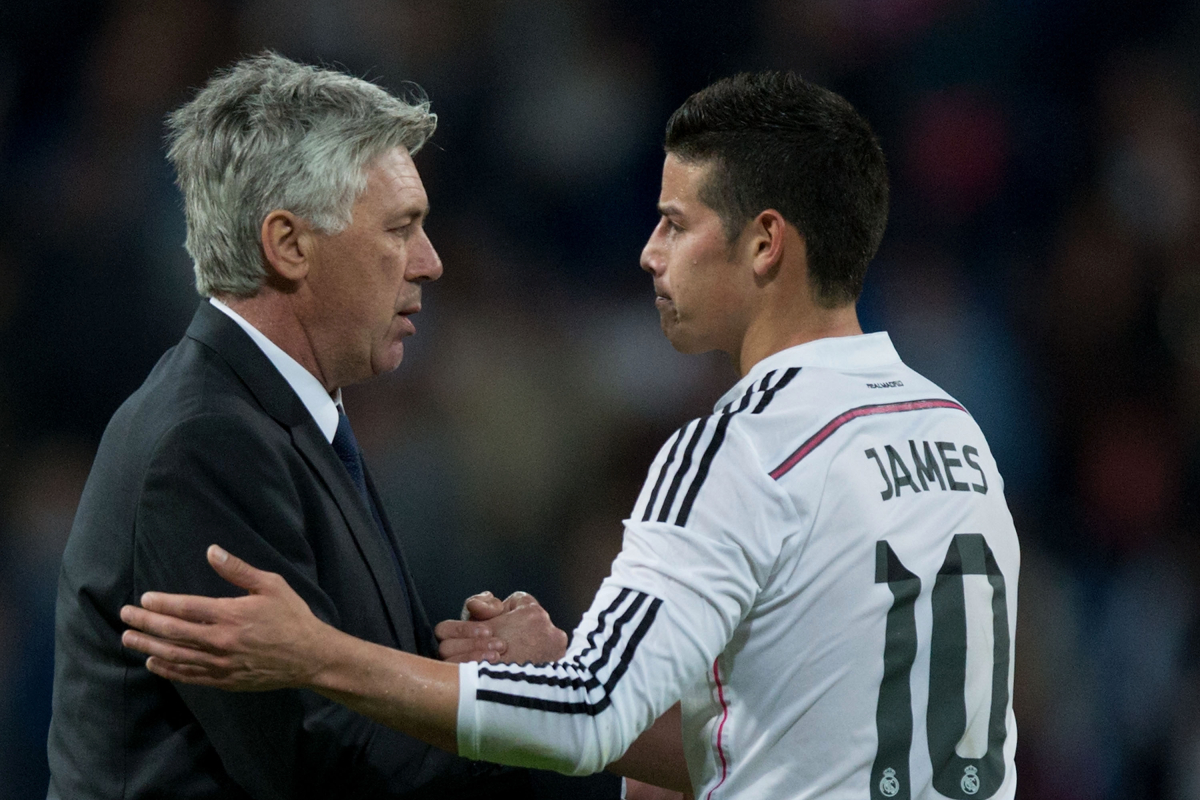 Joining the Galacticos was a dream for James, as he had expressed the same six years ago.
"It's really flattering to know that a club like Madrid, of such magnitude, are interested in me. It would be a dream to sign for the team of my dreams," James said back in 2014.
His flight to Madrid was also the first time James received Ancelotti as his mentor. However, the manager's tenure with Los Blancos ended in 2015, while James continued to thrive at Madrid. He donned the Merengues shirt 85 times and scored in 29 occasions.
2017: Loan spell to Bayern Munich and James meets his former gaffer
In the summer transfer window of 2017, James joined Bayern Munich on a two-year loan deal. Surprise surprise, the Bavarians at that time had Ancelotti at the helm, who joined the club in 2016 after his Real exit.
However, the reunion did not last very long, as Ancelotti was sacked by Bayern in the September of 2017, just a month after James arrived at the club. After a year without managerial roles, the 61-year-old joined Napoli, replacing Sarri.
James scored 14 goals in his 43 appearances for Bayern and won the Bundesliga trophy twice.
ALSO READ: Luka Modrić, and a war-torn childhood of alarms and bombs
2020: Transfer to the Toffees and the third union
🇨🇴 | It's official… @jamesdrodriguez is a Blue! 🔵#AlóJames pic.twitter.com/hNDsLvtqtT

— Everton (@Everton) September 7, 2020
Playing under Ancelotti for the third time in his career appears to be fruitful for the Colombian international, as he previously shed praise for the Italian manager.
In an interview with Rio Ferdinand on his YouTube show 'Five', James shared the memories of his first stint under Ancelotti at Madrid, praising the Italian gaffer for an amazing first season.
"He's wise, he knows a lot," said the 29-year-old, "He knows how to manage teams, so I really trusted him, I had a wonderful year.
He makes football easy: The gaffer's eulogy towards his recurring disciple
James scored his first goal for Everton in their 5-2 rout of West Brom at home last Saturday. Following the match, Ancelotti himself became all admiring for the player, stating that James makes the game look easy.
"His goal was the key goal of the game. It was a fantastic goal and he made fantastic assists," the Everton coach said after the win, "He is comfortable with the team and his teammates. He is showing his qualities – the qualities I saw in Madrid and at Bayern Munich."
⭐️ | First goal. First assist. A fine home debut from @jamesdrodriguez!

James *just* beats DCL to be your @eToro MotM. We're sure the match ball makes up for it, @CalvertLewin14! 😄#EVEWBA pic.twitter.com/ydEexht9vA

— Everton (@Everton) September 19, 2020
"The quality of James makes it easy for him to play [in any league]. His football is not is complicated. When he has space, he tries to use his quality on passes. When he has no space and he is under pressure he tries to play simple," Ancelotti added.
James's two-year-long contract at Everton has the option to be stretched further to one more year. Meanwhile, Ancelotti's four and a half year deal that started back in 2019 December will run until the closure of the 2023/24 season. With the gaffer expected to bring the best out of his protégé, it all looks bright for James in the forthcoming season.
💙 | This pair, though.

Pass us the Echo Falls… 😏

UTT. ✊ pic.twitter.com/OFLEoVzjAW

— Everton (@Everton) September 19, 2020
If you like reading about MMA, make sure you check out MMAIndia.com
Also, follow India's biggest arm wrestling tournament at ProPanja.com
Watch: Luis Suarez tears up during his Barcelona farewell ceremony
Kai Havertz nets first senior hat-trick in Chelsea's 6-0 rout of Barnsley