Advertisement - Please Continue to Read Below
Drew McIntyre, the current WWE Champion recently joined WWE legend, Steve Austin on his Broken Skull Sessions podcast. The Scottish Psychopath opened up on his new entrance with a sword and discussed how the idea came into work.
Drew McIntyre had a disagreement with Vince McMahon over the new entrance
Drew McIntyre was gifted a sword on-screen by Sheamus during the former's feud with Randy Orton. The Celtic Warrior had revealed the importance of the sword as he wanted to make him remember his roots of Royal Scottish family.
Actually in real life the sword belonged to Vince McMahon and it was his idea to change McIntyre's entrance and involve the sword during the entrance. McIntyre revealed McMahon had played around with his sword in his office.
While speaking to Steve Austin, the WWE Champion spoke about how he did not favour the idea of using the sword during the entrance and thought that it would not work with his entrance. He said:
"The sword entrance, he had a different vision for it where it was gonna come down and get in the ring with it on my back and raise it. I saw the giant sword. It was his sword from his house."
He added: "I walked around with it on my back, and was like, 'This sucks. This is not going to work.' From the beginning, I was like, 'This is a bit over the top. This might not work.' It's visually impressive."
Drew McIntyre changed up his entrance donning the traditional Scottish attire and made the debut of the sword on November 16 edition of Monday Night Raw as he faced Randy Orton in the main event of the show.
During the podcast, he revealed that he disagreed with McMahon regarding the pitched idea until the WWE Chairman performed the entrance himself and considered it to be a great one.
McIntyre revealed:
"I can't get off my back. I'm gonna look like a dumbass, and he took the sword, just me and him, and swung it around in his office, held it up, spun it around [and] did this (McMahon does the sword entrance).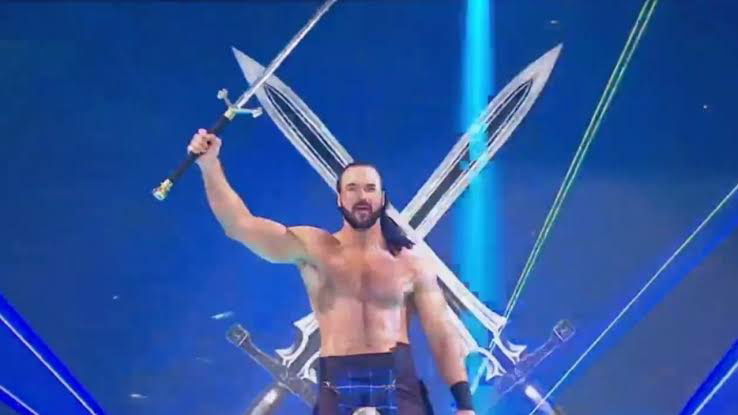 "Why don't we do this? That's great. Just genius. He just stands there, waved a sword around his office and came up with what we did for the entrance where I walk out, spin it [and] stick it in the ground", said McIntyre.
Drew McIntyre will be going into the New Year as the WWE Champion after defeating AJ Styles and The Miz at WWE TLC event.
Also Read: