The spectacular Hakim Ziyech's arrival to Chelsea FC back in February was one of the biggest transfer deals in football this year. The Moroccan international, known for his prowess with Ajax in the Eredivise, has been an amazing addition to Frank Lampard's squad.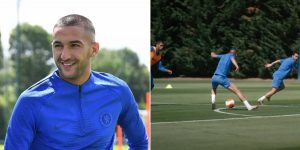 As he isn't registered with the Blues squad yet and thus cannot make appearance for the club until the 2020-21 Premier League season, Hakim Ziyech will miss out on Chelsea's season closing match against Wolves tomorrow. However, the fans already have a taste of what the talented attacking midfielder cum winger will bring to the table.
Hakim Ziyech overwhelms with a stunning assist during Chelsea training
While Ziyech won't be able to star in tomorrow's match, he was seen training with the rest of Chelsea squad at the Cobham training ground. During a practice session with players that did not feature in the match against Liverpool, Ziyech produced a staggering assist for Pedro.
ALSO READ: Horror tackle on Mbappe sparks 22-man tussle in Coupe de France final
In a clip posted on Chelsea's official Instagram, Ziyech was seen in a precise one two with the veteran Spanish forward. After receiving the ball from Pedro, the 27 year old produced a stunning volley for Pedro in the box, who fired it into the net. Check out the eye catching assist below-
The supporters, already happy with Ziyech's arrival in Stamford Bridge, were overwhelmed by the former Amsterdam icon's performance, as they lauded the player in the comments.
Not just the fans, Chelsea boss Lampard himself has hailed Ziyech for his engrossing display of skills in drills.
"He's (Hakim Ziyech) settled in, chatting and forming those new relationships in the early stages, and more importantly for him, he's getting himself fit," said the gaffer recently.
"Nice to take a bit part in training and then also get some physical work because he hasn't trained or played for quite a while," the 42 year old added.
Hakim Ziyech moved to Stamford Bridge on a five year deal after Chelsea and Ajax agreed on a deal of approximately €44 million on 14th February. He has played in four Eredivisie seasons with the Dutch giants, and has scored 38 goals in 112 appearances.
The player, a youth product of Dutch club SC Heerenveen, said recently that playing for Chelsea was a dream come true for him.
"When I was young, the players that played here, it was always a big club so I am very happy and it means a lot," Ziyech said in an interview last week, "I was playing in the youth in Heerenveen and here was playing Drogba, Lampard, Terry, all those big names."
"We were always for Chelsea, and if you look at now, if you can play here it means a lot to me," he added.
If you like reading about MMA, make sure you check out MMAIndia.com
Also follow India's biggest arm wrestling tournament at ProPanja.com
Liverpool star Fabinho's house robbed during title celebration
https://www.thesportsroom.org/tomas-souceks-childhood-club-gold-transfer/