Having a strong core is one of the fundamentals when it comes to either bodybuilding, getting in shape, or just having a regime of staying fit. The core muscles make our center of gravity and making the center of gravity stronger benefits us in all forms of physical activities. The cherry on top? You are rewarded with a sculpted, chiseled set of abs.
Engaging your core while doing any physical activity, from playing sports to exercising or even household chores aids in minimizing the chance of injuries and increases the efficiency of the workouts.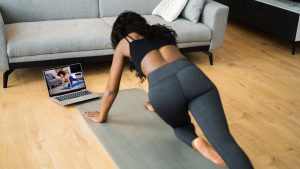 There are a number of specific benefits that you can gain from training your core muscles:
Having a stronger core: Core muscles are of paramount importance in achieving a great overall physique- not just aesthetically but also functionally. Focusing on your core along with other muscle groups helps in achieving an all-around brilliant physique.
Improving your posture: Being strong from the center aids in you maintaining proper posture during bodybuilding and aerobic exercises, or even doing everyday work around the house.
Boost workout performance: Core muscles are engaged in almost every activity so whether you are targeting any muscle in a workout or doing cardio, making it stronger only amplifies the benefits.
Develops better balance: The core muscles are located at the center of your body and strengthening them is a foundation for improving your overall body balance, which helps in maintaining proper form during training.
Mitigate chances of injuries: Aside from improving your workouts and making you sturdy from the center, having a strong core drastically reduces the chances of injuries during training or workouts, ultimately making them safer.
Now, exercising your core, along with every other workout regime is achievable right from the comfort of your home with the help of Fit at Home. In a workaholic or busy schedule, taking out time to visit the gym regularly may not be possible for everyone and with the ongoing COVID-19 pandemic, many fitness enthusiasts actively avoid the crowded gyms packed with people and have already made the switch to home workouts.
Here's why Fit at Home is best for you:
Get in shape at home: While it may not be feasible for everyone to take out time for going to the gym, you can now enjoy a detailed and guided workout program right under your roof.
World's best trainers: Unable to visit the trainers at the gyms? Fit at Home brings the best trainers in the fitness industry around the world right to you, so you can enjoy your fitness regime under proper guidance even at home.
Extensive workout programs: Bodybuilding, getting in shape, or just staying fit? Fit at Home has something for everyone. With a vast array of over 1000 workouts that are constantly upgrading, Fit at Home benefits you no matter if you're already in great shape or about to start your fitness journey.
SMS alert service: Forgetting your exercise routine under a busy schedule? Worry not. With Fit at Home's SMS alert service, you will never miss a class as the service reminds class timings and the best part? It is completely free!
Sign up at Fit at Home today and enjoy a marvelous workout experience right at your home.