Model and influencer Jordyn Woods was thrown on the spot after a series of screenshots surfaced where Karl-Anthony Towns' relationship with another woman was exposed. The 23-year-old has broken the silence and came out in defence of the player by shutting down the rumours which implied Towns cheating on her.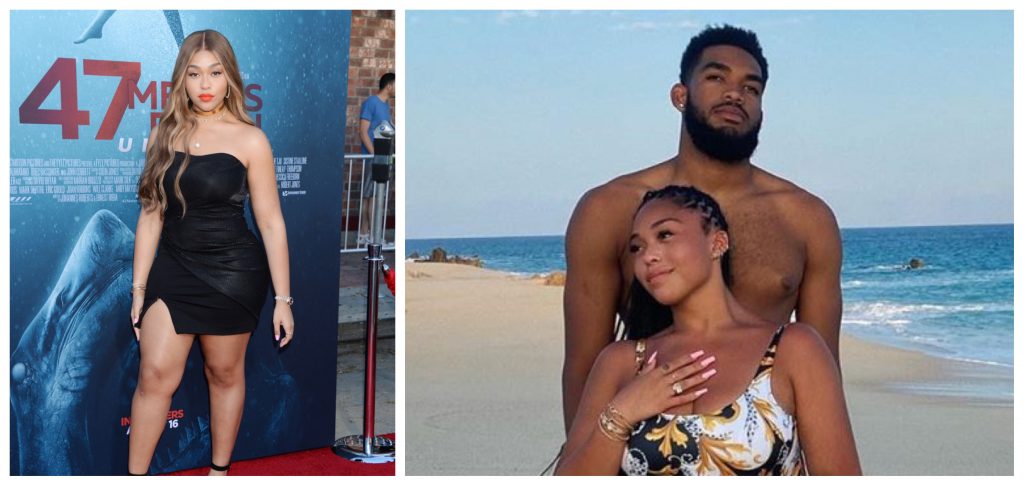 Jordyn took to Twitter to affirm that the screenshots being circulated are fake. She also asserted that her relationship with Karl-Anthony is solid.
"so crazy how someone can make fake screenshots and send it to blogs and y'all believe it my relationship is more than solid and I put that on everything."
"And to the person who started this rumor… WE SEEE YOU SIS.. since you wanna be seen SO BAD. God see you too'
The Minnesota Timberwolves star also chimed in by claiming that he has got the 'baddest girl in the game'
"So I got the baddest girl in the game and you think I'm gonna waste my energy with anyone else gtfoh! Same haters we got now are gonna be the same ones we have when I put that ring on her finger," he tweeted with a shrugging emoji
The saga started when an Instagram user posted screenshots of her alleged conversation with Karl-Anthony, which was then extensively circulated. The DM exchange involved flirtatious messages being exchanged and also talks of a meet-up at a time Jordyn was out of town.
Jordyn also noted that there are no way that those screenshots are real since Karl-Anthony talks in a completely different way in texts.
"So crazy how someone can make fake screenshots and send it to blogs and y'all believe it 😭 …" she tweeted. "He don't even talk like that … 'Mamita' 😂😂😂😂 come on now." she tweeted
To conclude, she stated that usually she does not respond to such allegations, but felt like doing so because the former Rookie Player Of The Year's name was being defiled.
Jordyn had confirmed her realtionship with Karl-Anthony back in September 2020 on Instagram. Their summer getaway image was captioned, "I found you, then I found me,"
Also Read: