The 20-9 defeat against Washington, making their 7th loss this season is now a relatively smaller worry for Bengals, who are on the verge of missing their injured quarterback Joe Burrow for up to 12 months.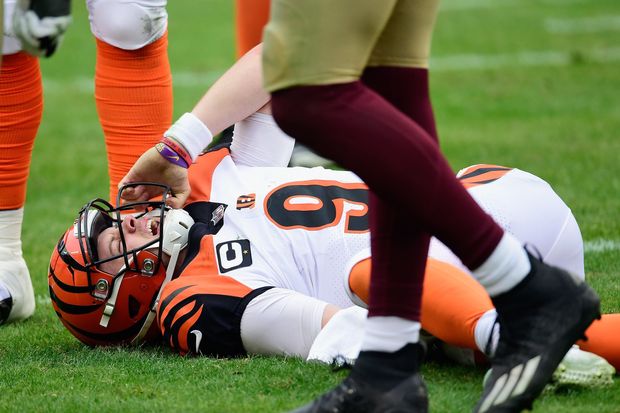 During the Sunday game at the FedExField, Joe Burrow sustained multiple injuries in his left knee in the third quarter after getting caught between two Washington linemen and was taken off of the field after completing 22 of 34 passes and covering 203 passing yards.
See ya next year: Joe Burrow bids adieu to debut NFL season following torn ACL and MCL
- Advertisement -
Following a report from ESPN, it was revealed that Burrow had a torn both of his ACL as well as MCL in his left knee and will be out for the rest of the 2020 season. Knee injuries of this extent generally require 9 to 12 months to recover which also puts a big question mark to the QB's availability at the start of the next season.
"Thanks for all the love. Can't get rid of me that easy. See ya next year," the 23-year-old tweeted following Sunday's game.
Thanks for all the love. Can't get rid of me that easy. See ya next year✊

— Joey Burrow (@JoeyB) November 22, 2020
Following the match, several NFL teams and players, including Washington as well as Chiefs stalwart Super Bowl MVP Patrick Mahomes who took to Twitter to offer their sympathies and support towards Burrow.
All respect for @JoeyB ✊ pic.twitter.com/Uoc0EDG4o0

— Washington Football Team (@WashingtonNFL) November 22, 2020
Prayers up!!! @JoeyB 🙏🏽🙏🏽

— Patrick Mahomes II (@PatrickMahomes) November 22, 2020
Praying for you @JoeyB !!! 🙏🏾🙏🏾🙏🏾

— Russell Wilson (@DangeRussWilson) November 22, 2020
ALSO READ: Drew Brees reportedly sustained 11 broken ribs as six more fractures have been identified
Bengals head coach Zac Taylor, while did not detail the magnitude of Burrow's injury, asserted that the player would be seen back in action sometime during the 2021 season, but claimed Burrow is not dispirited from the injury.
"He's been in great spirits," Taylor said at a press conference on Monday, "on the bus, on the plane, you know, in the facility today, he's responded as well as he could possibly do it and we've all noticed that."
"He's an expert in missing an offseason and playing effectively," added Taylor.
Joe Burrow, the no. 1 overall pick in the 2020 NFL draft has covered 2,688 passing yards in the ongoing season until Sunday's game, as well as 13 TDs and 5 Ints.
If you like reading about MMA, make sure you check out MMAIndia.com
Also, follow India's biggest arm wrestling tournament at ProPanja.com