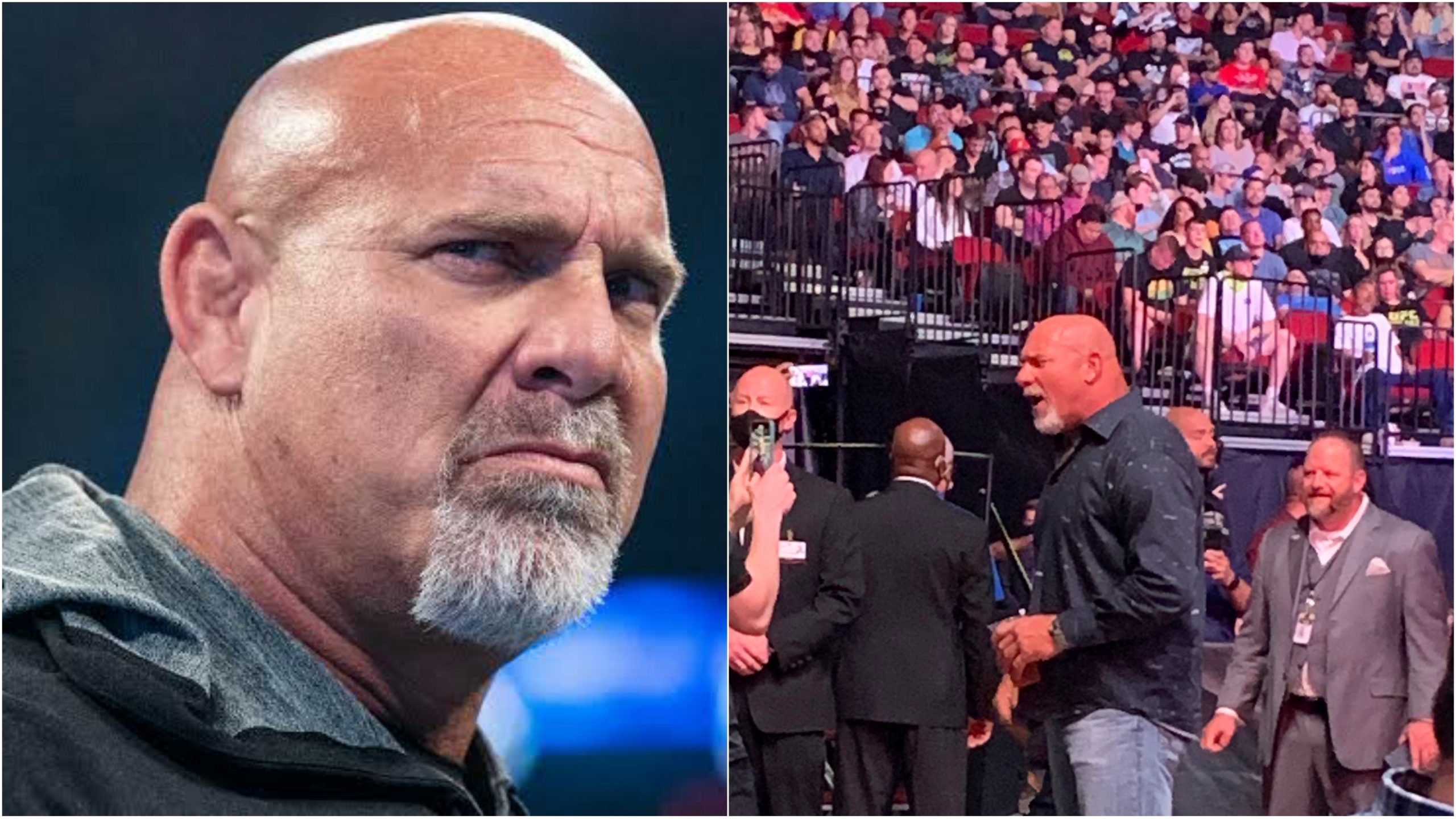 Advertisement - Please Continue to Read Below
The former WWE star Goldberg was spotted in the attendance for Saturday night's UFC 262 at the Toyota Center in Houston, TX. There were several huge stars who made their presence felt alongside the former WWE Universal Champion.
Goldberg greets Matt Sera at the UFC 262
During the event the cameras caught Goldberg,who was seen greeting WWE Hall of Famer Matt Serra in a very unusual manner. He put the UFC Hall of Famer in a friendly headlock and kissed his head.
The UFC Europe Twitter account also went on to share a video clip of Goldberg. He was witnessed cutting a promo after getting hyped to see fans in attendance.
Goldberg was last seen in the WWE ring was against Drew McIntyre for the WWE Championship at the 2021 Royal Rumble. He was defeated by the Scottish Warrior at the event.
ALSO READ: The Rock's fan flaunts a tattoo as a homage to Rocky Johnson
Goldberg had been one of the dominant forces in the WWE having the famous undefeated streak staring from his run in WCW. He has been in clashes with the likes of The Undertaker, Brock Lesnar, and The Rock in his illustrious career.
What went down at UFC 262?
The UFC 262 card was stacked with huge matches The main event saw a lightweight title fight between Charles Oliveira and Michael Chandler. The former got a second-round TKO win.
Six of the eight fights finished early and there were some eye catching knockout during the night. Edson Barboza tallied a great victory when he got the third round TKO against Shane Burgos after a brutal fight as they kickstarted the main card.
The former Strikeforce champion and legendary former Brazilian jiu-jitsu competitor Ronaldo 'Jacare' Souza was defeated by submission for the first time in his entire career, after as many as 37 fights.
Fellow Brazilian Andre Muniz was able to defeat the veteran as he broke Jacare's arm in the first round. It came after a highly technical wrestling exchange. Muniz also scored a couple of knockdowns against Souza and showed his dominance.
The victory gave Muniz his 14th submission victory from 21 career wins. Following the victory he has come out to be the biggest threat to the division.