Novak Djokovic has pulled out of the upcoming Paris Masters after it became clear that he wouldn't be having any points to win at the November 2-8 event.
Novak, who is coming off a hard-fought French open, has his eyes set on Vienna and the ATP finals in London. The announcement comes just a day after Nadal's decision to contest at the Masters 1000 event.
Novak on the other hand seems to be chasing a different milestone-the milestone to spend most weeks as World Number 1, a record currently held by Federer.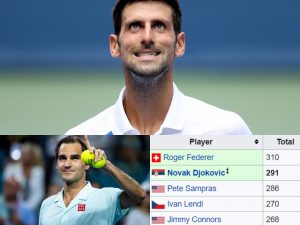 "It's not my priority," says Djokovic about his 36 masters wins record
When probed about his decision to withdraw from Paris Masters, the world number 1 said-
"I won't play the Masters in Paris as I can't win new points there. But I will go to Vienna and London", Djokovic said.
Djokovic, who won the Paris Masters last year, will not lose any points over skipping the event because the ATP Tour's revised ranking system due to the COVID-19 pandemic allows players to retain points from last year.
. @djokernole getting ready for Vienna at Novak Tennis Center
@goranivanisevicofficial
Via @dzaleee #novakdjokovic pic.twitter.com/jCXpTYoldZ

— NovakDjokovicFanClub (@NovakFanClub) October 19, 2020
"I didn't play in Vienna last year and I can win up to 500 points there. There are a lot of points to be won in London as well."
Also read The Resilient Dutchmen: Liverpool hold off Ajax to secure hard-fought 1-0 win
Asked if he was content to allow world number two Nadal to catch up with him in the Masters race, Djokovic said: "It's not my priority. My immediate task is to collect as many points as I can in a bid to put as much distance between myself and the chasing pack ahead of next season."
The final frontier-
Novak also said that his immediate wish list consists of having the record of most weeks as number 1, an achievement long held by Roger Federer, with 310 weeks as world number 1,237 of which were consecutive.
"I want to go down in history as the world number one with the most weeks at the top of the ATP Tour and I will do all I can to make it happen."
If all goes well, then Novak could upsurge Federer as soon as March 8 the next year,the same day as International Women's Day.
If he breaks the record, Djokovic will dedicate it to the two pillars of his life.
"That's right, I can break the record for March 8. If that happens, I will dedicate it to my mother and wife," added the 33-year-old.
If you like reading about MMA, make sure you check out MMAIndia.com
Also, follow India's biggest arm wrestling tournament at ProPanja.com
Also read:
Going for glory: Nadal to chase record equalling 36th masters title in Paris