WBC and WBA (Super) super-middleweight champion of the world Canelo Álvarez is at the top of the boxing hierarchy, but there are always fingers being pointed at the superstar.
The number one P4P boxer is going to have an eventful 2021, starting off with his mandatory title defense against Avni Yıldırım on 27th February so his WBC title isn't stripped.
- Advertisement -
However, critics have already started tagging the bout as unfair, calling Yıldırım, former WBC International super-middleweight champion as well as a former WBC contender, a massive underdog in the bout.
However, in an exclusive interview with BoxingScene.com, the Mexican maestro makes it crystal clear that he is least bothered about the reprimands he has been facing since the Callum Smith fight which took place just 10 weeks ago.
"I don't have to give any explanation [for fighting Yıldırım]," said Canelo, "I really don't have to give any explanation because they're never gonna be happy with anything."
Canelo came back to the squared circle after more than a year in December last year since squaring off against Sergey Kovalev in November 2019 for the WBO light heavyweight title.
ALSO READ: Becoming undisputed champion not the ultimate goal, Canelo wants "to keep making history"
I see a strong fighter: Canelo is being 'aware' of the underdog Yıldırım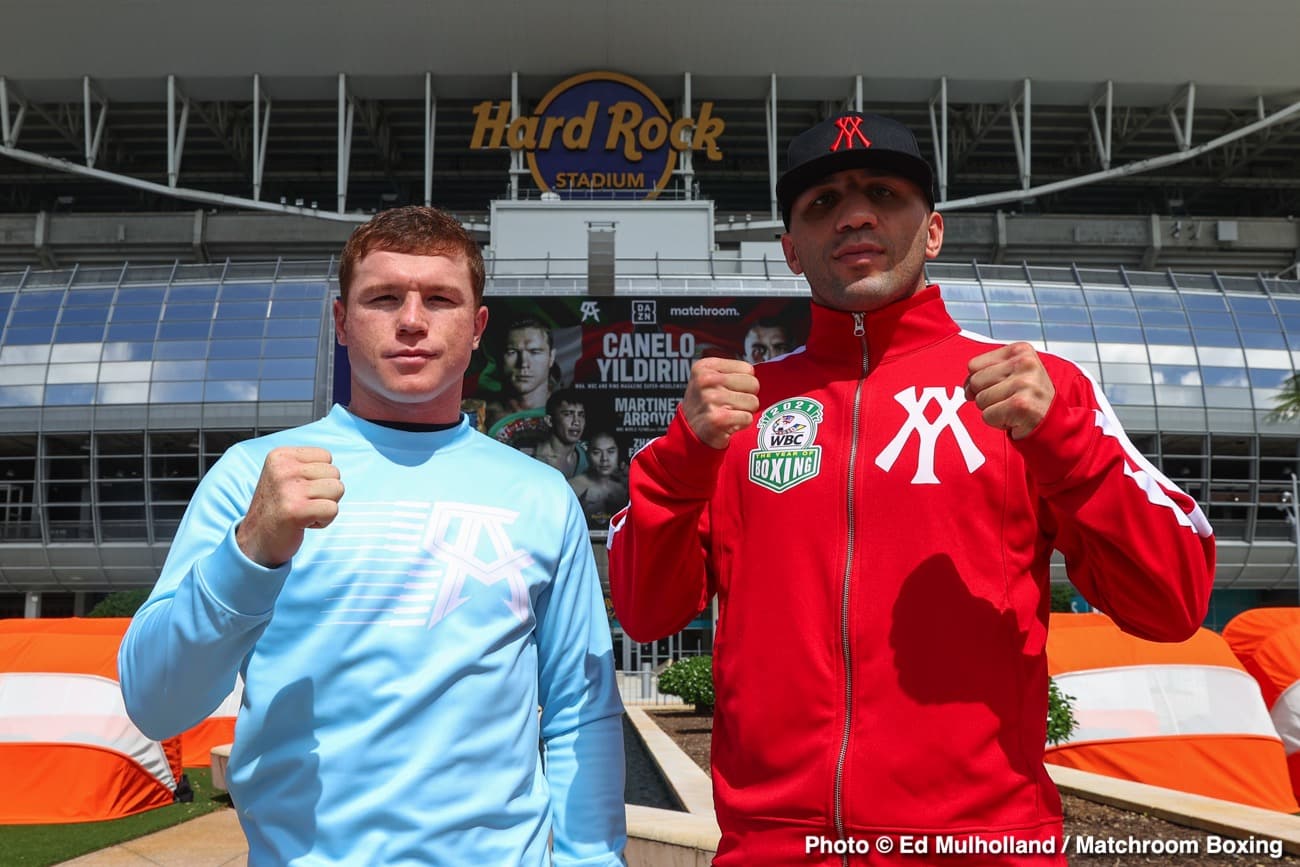 The 30-year-old defeated Smith via unanimous decision to clinch the WBC and WBA Belts, but the remarkable return to boxing still did not make everyone happy and at this point, the pugilist has just stopped paying heed.
"I just fought number one at 168 pounds [Smith], and they're not happy with that, either," Canelo went on, "So, I have nothing to say and nothing to explain. I don't care."
While a chunk of the boxing fandom sees Yıldırım as the much weaker boxer, Canelo himself sheds praise on the Turkish boxer, who himself oozes confidence ahead of the biggest match of his career.
"I see a strong fighter," Canelo hailed the Turk, "I see a fighter that goes forward, obviously. He has lots of courage. He can be dangerous at any moment because he is a strong fighter.
"There's no doubt that I am a fighter that has more qualities, obviously. But in boxing, you must always, always be aware," he added.