Arsene Wenger has reportedly rejected the offer from Spanish giants to replace Quique Setien as Barcelona boss after the latter's not-so-memorable campaign.
Arsene Wenger, one of the greatest Premier League managers of all time has been out of the managerial arena since he left the Gunners after an unprecedented 22 years. And while the exile continues for the great manager, he has been spoiled with choices as far as his next destination is concerned.
The latest in this list of pursuers is Barcelona.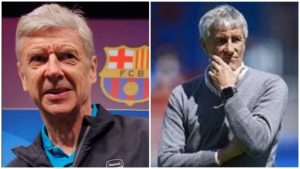 Wenger's rejection a lifeline for Quique Setien.
The Catalans are in the midst of one of their worst seasons in recent times, with Setien's job hanging in the balance.
Not only have they lost to Real Madrid in the La Liga race but were going through a practically nightmarish period with talks of Lionel Messi leaving them for good.
It was in these dire circumstances that Camp Nou decided to call upon the ex-Arsenal manager.
Had Arsene Wenger accepted the offer, it may well have been a death knell for Barca manager.
Arsène Wenger has had several very attractive offers as of late, with Barcelona being the most recent, but Wenger turned down Barcelona's approach to be their manager, despite discussions around the project & terms that would have been offered. [@AlexisBernard10 exclusive] #afc pic.twitter.com/4LHr2t5RJT

— afcstuff (@afcstuff) August 12, 2020
The report from French outlet Le 10 Sport claims initial discussions progressed well and Wenger was interested in the project before choosing to reject Barcelona's offer.
Catalans are not the first club to be rejected by Wenger, who said he did not know if he will manage another club ever. He had earlier stated-
 "My future is unknown. Even for me."
Not the first club to be rejected by Arsene Wenger
The Frenchman had had some of the most glorious and mesmerizing moments in the Premier League. From the creation of 2003/04's invincible to a fantastic rivalry with Sir Alex Ferguson, Arsene Wenger has already established his status as one of the GOAT's in the managerial arena, even if this is the end of the road for him.
Real Madrid, AC Milan, and Manchester United were some of the biggies who had earlier approached and were turned down by the great.
He had said that it would be "difficult" to take over at any other side having "dedicated my whole life to one club".
Also Read:https://www.thesportsroom.org/depleting-arsenal-gunners-55-staff-redundant/
However, even at 70 Arsene Wenger remains one of the finest minds in the game and should he decide not to coach ever again,  it would be a great loss for the footballing arena. Let us hope that this talismanic Frenchman once again wears his famous grey suit and shout "I did not see it" on the sidelines.
The road ahead for Setien:
Barcelona would be up against all odds when they face a ruthless Bayern Munich in Champions League quarterfinals and would look to salvage what has until now been a pretty average season.
The match would also decide the future of  Quique Setien as Barcelona manager and hence it is absolutely imperative that Catalans do what very few expect of them-that is -defeat Bayern Munich.
If you like reading about MMA, make sure you check out MMAIndia.com
Also, follow India's biggest arm wrestling tournament at ProPanja.com
Also Read:
A bed worthy of Messi: The Catalan sleeps on a £900 Coronavirus killing bed.