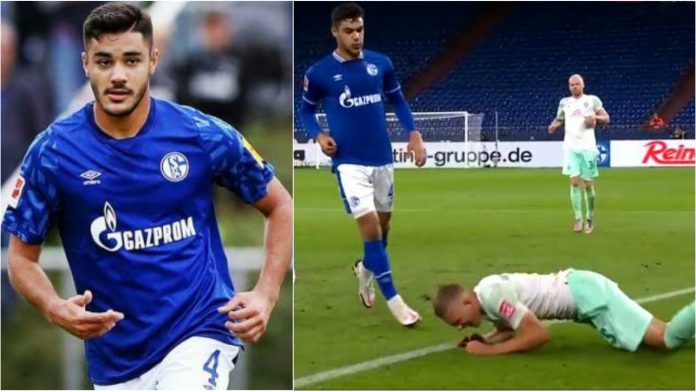 Advertisement - Please Continue to Read Below
Ozan Kabak, the Schalke player has done something ugly which people did not see that coming. After a duel and committing a foul, the midfielder spat in the direction of an opponent who was lying on the ground after the challenge, that too amid the deadly COVID-19 pandemic.
Ozan Kabak spat on an opponent amid the pandemic
The incident took place when Schalke locked horns with Werder Bremen at Veltins Arena on Saturday.
In the 26th minute of the match when Schalke was 1-0 down, Ozan Kabak went on a duel with Werder Bremen defender, Ludwig Augustinsson.
Whether it was on purpose or not, it was difficult to see on television. Neither the referee nor the VAR notice the incident taking place.
You can watch the video below:
Ozan Kabak was sent off by the referee in the 84th minute of the match,getting the second yellow card. But, it has nothing to do with the awful incident that he was involved in.
However, the Werder Bremen left-back gave his thoughts following the 3-1 defeat against Schalke. He did not realize the situation until he saw it in television pictures.
Ludwig Augustinsson said, "It's not nice, it has nothing to do with football. That's not fair play."
ALSO READ: And then there was one: The departure of Suarez and the agony of Messi
It is a controversial topic that has caused outrage among the fans and pundits. It is not an action to be tolerated.
Lothar Matthäus, the Sky expert gave his thoughts on the terrible incident. He said, "That was on purpose, a conscious action. Getting spat on as a player is the worst. I hope he will be punished."
Ozan Kabak apologised on social media, claims it to be an accident
Ozan Kabak, the 20-year-old centre back who is one of the top young defenders in the Bundesliga apologised for the actions on Twitter.
His tweet read, "I wish to sincerely apologize to Ludwig Augustinsson. It was not my intention, it was an accident. I did not aim at him, the TV angle gives a deceptive view of the incident. I never did that before and won't do it IN THE FUTURE, as it's unsporting. This was very unlucky."
He added, "But in any case, I apologise to Ludwig."
You can see the tweets below:
I wish to sincerely apologize to Ludwig https://t.co/dlxr7akHrw was not my intention, it was an accident.I did not aim at him, the TV angle gives a deceptive view of the incident.I never did that before and won't do it IN THE FUTURE, as it's unsporting. This was very unlucky.

— Ozan KABAK (@ozankabak4) September 26, 2020
But in any case, I apologise to Ludwig.

— Ozan KABAK (@ozankabak4) September 26, 2020
If you like reading about MMA, make sure you check out MMAIndia.com
Also, follow India's biggest arm wrestling tournament at ProPanja.com
Also Read:
And then there was one: The departure of Suarez and the agony of Messi