The legend, for a change this time, lavished praise on Warriors' Stephen Curry and branded him as unique. Shaquille O'Neal has not been the one to mince his words and has drawn criticism for his approach of launching verbal attacks on players during his time as an analyst so far.
During the half-time break of the Boston Celtics and Golden State Warriors' encounter, Shaq admitted that Curry was the best player that he has ever watched.
"I like him because it's something that I haven't seen before, A lot of times when I try to compare the new era and the old era people say I'm hating. … I've never seen anything like Steph, and that's why he's my favorite player."
The Lakers legend has been openly critical of the modern era of the game and his praise borders on confusing since Curry has been nothing short of being the embodiment of the new age basketball.
Dwayne Wade was also in awe of Curry and recalled the time he had to guard the former MVP and outlined the underrated aspect of his game.
"He would run, put his head down, and he would go through two screens on the other side of the court so fast. If you got big shoulders like me, you're not getting through those. So you gotta be a slender guy to guard Steph, but he's amazing off the ball and that's one thing the highlights don't always show." Wade said
Shaq's criticism has not gone well with the players with Utah Jazz's Rudy Gobert citing LeBron James' example and claiming that he doesn't take it seriously.
"I mean, look at LeBron James. He was actually the most criticized player of our generation, and he's the one who has accomplished the most, so I would say when you start playing well, you're going to have a lot of people criticize you and people praising you. But you can't let that affect you."
Stephen Curry ran the show against the Celtics in a losing cause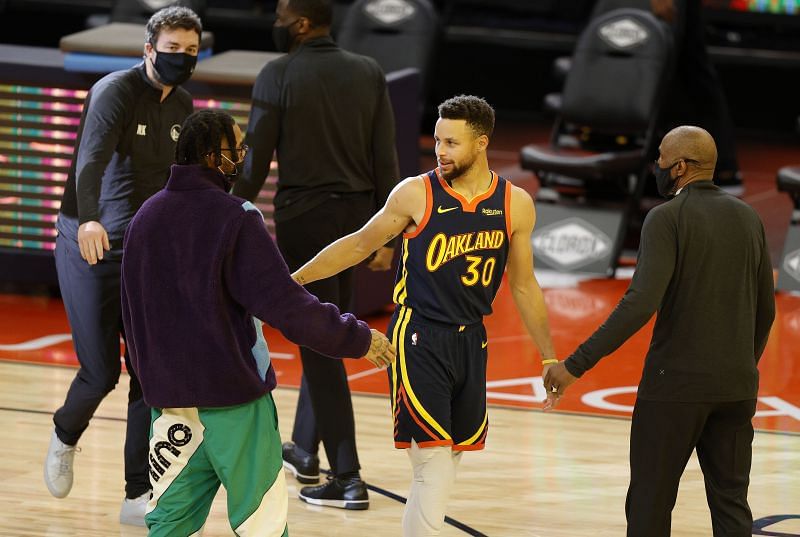 Curry had a stellar first half against Celtics with 22 points on 8-of-13 shooting with the score tied at 52.
Despite the guard's 38 points, Warriors slumped to a 111-108 point defeat, leaving their search for consistency going on.
Also Read: