After winning Game 1 rather comfortably, the Suns were met with a tougher challenge by the Clippers, but still managed to walk out with a win to continue their extraordinary playoffs run.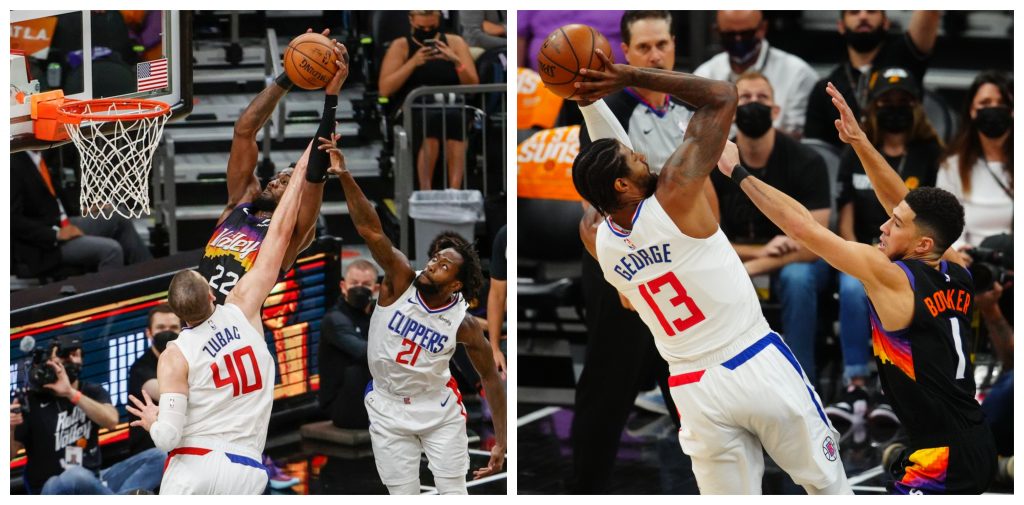 NBA Playoffs: Conference Finals
Suns 104-103 Clippers
Much like the first encounter, Kawhi Leonard and Chris Paul were prominent absentees for the team.
The first quarter was a caged affair but the Suns managed to walk out of it with a slender thee-point lead. Only a point separated the sides as they took the half-time break.
The hosts managed to stretch the lead up to nine points in the third quarter after defensively holding the Clippers for around three minutes. However, the number four seed managed to make it into a two-point game heading into the fourth quarter.
The third quarter saw a clash of heads between Devin Booker and Patrick Beverley on the wing. While both players were handed a common foul for the incident, Booker had to leave the court to put stitches on the wound that started bleeding.
The guard returned in the fourth quarter where the Clippers were making a serious charge. Suns held a three-point lead heading into the final minute of the back and forth Game 2.
A series of mid-range jumpers by Devin Booker and Paul George on the opposite ends of the court kept things interesting, but put the Suns on the backfoot. The Clippers snatched a vital one-point lead with just over 20 seconds to go.
Paul George had a chance to seal the encounter with 8 seconds to go after an opportunity arised in the form of two free throws. However, the player managed to miss both of his shots much to the delight of the crowd.
Following an out-of-bounds ball from the corner with 0.8 seconds to go, Jae Crowder put up an alley-oop for Deandre Ayton on the rim who responded with a dunk to seal the contest for the Suns at the buzzer.
While Booker took the plaudits in Game 1 with the triple-double, the performance in Game 2 was staggered as the trio of Booker, Deandre Ayton and Cameron Payne scored over 20 points. The latter top-scored by posting 29 points to his name.
Paul George notched 26 points for the Clippers and emerged as the top scorer for the side, who are 2-0 down for the third time in the playoffs. They had managed to overcome 2-0 deficits against Dallas Mavericks and Utah Jazz in the first and second rounds respectively.
Also Read: