If Las Vegas has been the focal point of boxing around the world, Mike Tyson surely has been one of the grandest names for taking that place to that stature. The former undisputed heavyweight champion of the world had most of his biggest fights in the city, and now the city aims to return the honour back to the "The Baddest Man on the Planet" by erecting a statue of the boxing legend in Resorts World Las Vegas.
Mike Tyson "overwhelmed", "humbled" after seeing his statue unveil
The Resorts World, which has very recently been constructed on the famed Las Vegas Strip, now has Mike Tyson's ten feet tall statue, commissioned by Richie Palmer, the owner and founder of Mulberry Street Pizzeria and a lifelong friend of Iron Mike who reveals to have befriended Palmer when he was a teenager in NY.
"Well you know, I'm from New York and Mulberry Pizzeria's legendary there and I lived in Beverly Hills and it was legendary there," said Tyson, "I lived around the corner from it. I was here in [Las] Vegas and [Richie] honored me with the statue and I'm really humbled and thank you, Richie. I knew Richie ever since my teenage years in New York City and we have always been close and I'm a little overwhelmed. I'm pretty humbled right now." [H/T Boxing Scene]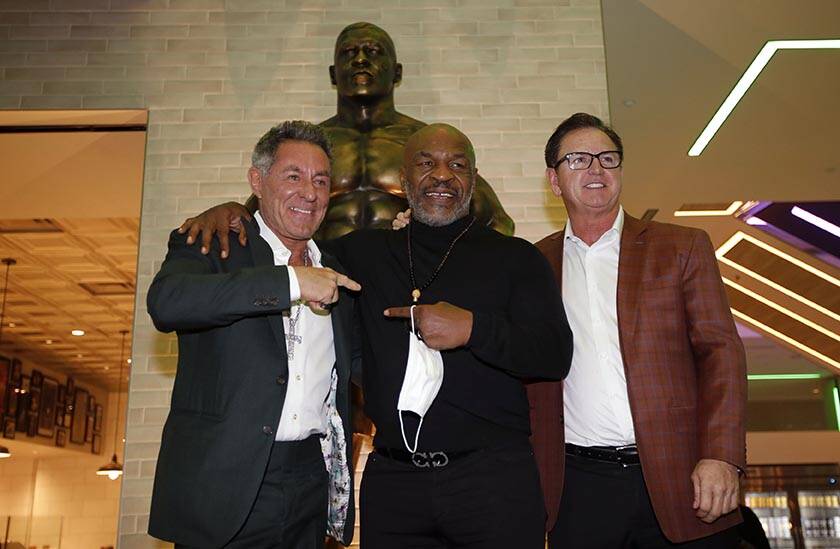 Palmer also revealed that he is a huge fan of boxing and believes Tyson is symbolic to boxing and Las Vegas being seen as the sport's Mecca, and it was a no-brainer to have the boxing legend's statue being erected there.
Two of Tyson's biggest career fights, both against his arch rival Evander Holyfield, took place at the famous MGM Grand Garden Arena between 1996 and 1997. Since retiring from the sport in 2005, 55-year-old Tyson made his comeback in an exhibition bout against Roy Jones Jr last November, and is now slated to take on YouTuber-turned-boxer and social media celebrity Logan Paul in February next year.
Highlights:
Mike Tyson gets his 10-feet tall statue established in the newly built Resorts World Las Vegas
The statue was commissioned by Tyson's lifelong friend and Mulberry Street Pizzeria founder Richie Palmer