Minnesota Timberwolves' Malik Beasley caused quite the sir after a rumoured fling with Scottie Pippen's ex-wife came into the limelight. The reported affair wreaked havoc after his wife Montana Yao sought a divorce. With the flame between the duo dying out, Beasley is hoping for a reconciliation with his wife and child and made his feelings clear with an Instagram post.
The small forward apologised to his wife for putting her through an ordeal and admitted that his head was not there in the right place.
'I wana say sorry for putting you in the situation you were put in the last few months.. my head wasn't were it was supposed to be.. I was looking for more when it was right here that whole time," Beasley wrote. Check out the entire post right below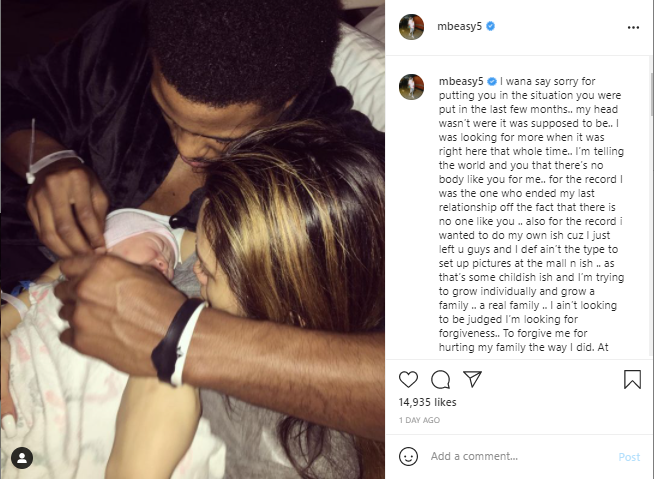 Larsa Pippen had come out in the open to state that she had nothing to do with the marital troubles Beasley was facing since he and Yao were already not on good terms. Pippen and Beasley also reportedly unfollowed each other on social media, indicating that their relationship came to an end.
Yao had filed for divorce after Beasley's image with Pippen holding hands started making the rounds.
Montana Yao responds to Beasley's emotional apology
Beasley's estranged wife commented on the apology posted and added that their child has always been her priority.
"Makai and I do appreciate Malik's apology," Yao said on Instagram on Monday. "It's hard to own up to bad decisions and apologize especially publicly so it is really appreciated."
"My main priority has been and will forever be my son so I'm glad if/when he looks back on all of this one day he can see his dad publicly apologized to us for publicly hurting us." she added
She further added that this could be a step towards moving on from all the anger and resentment.
The player averaged 19.6 points per game across 37 games for Minnesota Timberwolves, who had a rather forgettable campaign with a 13th place finish in the Western Conference.
Also Read: