Advertisement - Please Continue to Read Below
Kurt Angle, the former WWE star on the newest episode of The Kurt Angle Show on AdFreeShows.com discussed the WWE No Way Out 2006 pay-per-view event. At the event the Olympic Gold Medalist had squared off against the WWE icon, The Undertaker with the World Heavyweight Championship on the line. He went on to reflect on a spot that they performed during the match.
Kurt Angle had stolen Bret Hart's maneuver during the bout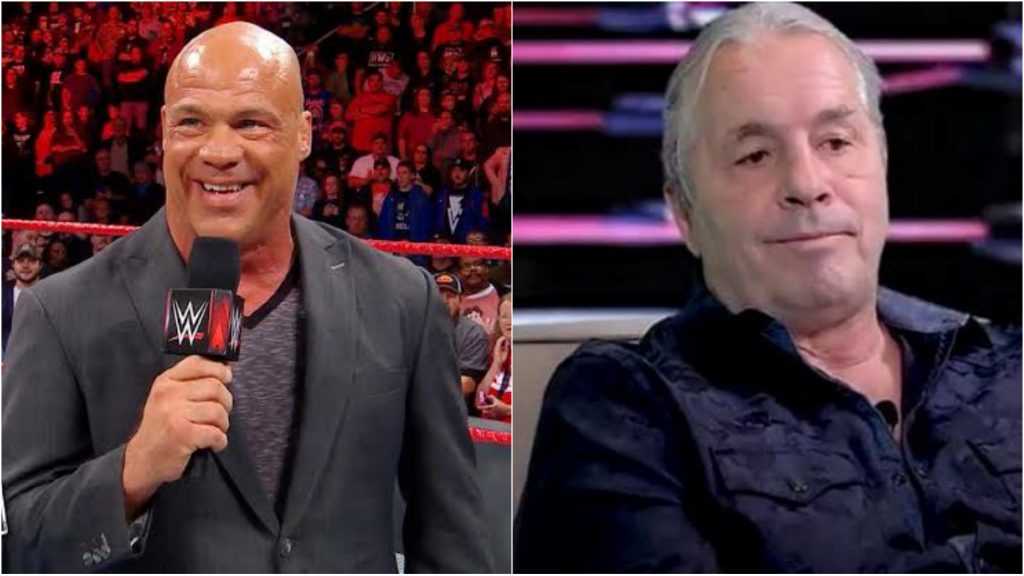 Kurt Angle, the WWE Hall of Famer had various wrestling moves up his sleeve but during the podcast he said that during the match he had executed a figure four leglock around the ring post on The Undertaker. He revealed that it was a modified version of the submission move that was popularized by WWE Hall of Famer Bret Hart.
Interestingly, Angle also revealed that it was the Undertaker who had pitched the idea to do the spot in the match as Bret Hart did the same when he had faced The Phenom.

He said: "Well, the Undertaker brought it up because he said Bret Hart used to do it with him, and so I thought it was a pretty cool move, and I think we might have even done the hit on the post."

Kurt Angle also reflected on the fact that he had used the move a few times during his career. He confessed that he took it out of Bret Hart's playbook and praised the spot which they executed quite well.

He said: "I have done that a couple of times (figure four leglock around the ring post). I got it out of Bret Hart's playbook. You know, you want to be the best, you have got to steal moves from the best (laughs). You know, it was a great spot in the match, and it worked out really well."

During the conversation, Angle went on to explain the evolution of pro-wrestling and how the pyschology of the wrestlers has changed over the years. The stars in the Attitude Era of WWE had stopped the use of the old collar and elbow tie-up and chose to start the matches with heavy strikes.
Kurt Angle would always remain as one of the best stars to step foot in the squared circle and it would certainly be amazing for the fans to know about this little secret which he shared.