Matchroom Sport group managing director Eddie Hearn has expressed his desire to see WBC interim heavyweight champion Dillian Whyte to square off against UFC heavyweight titleholder Francis Ngannou in a two fight series.
2017 saw a dream scenario in combat sports history when boxing icon Floyd Mayweather stepped inside the ring against mixed martial arts superstar Conor McGregor.
Hearn, who promotes Dillian Whyte, wishes for a scenario of equal grandeur as he wants the British pugilist to lock horns with the Nigerian MMA star, who is famous for having the hardest recorded punch in the history of the UFC.
The promoter even names the unified heavyweight champion Anthony Joshua as a future potential sparring opponent for Ngannou, as Hearn revealed in his weekly report on the AK and Barak Show on SiriusXM.
"AJ wants to be the best, but he also wants to do different things once he meets his goals," Hearn's report read, "so a fight with Francis Ngannou isn't impossible. Just like Katie Taylor vs. (Cris) Cyborg or (Amanda) Nunes potentially."
One in the cage and one out of it: Hearn aiming for Whyte vs Ngannou 2-fight series
If that wasn't exciting enough, Hearn even spoke about a future two-fight contest between Ngannou and Whyte, and even revealed that his company had hosted a press conference between the two to spark the rivalry, before UFC pulled the plug on the tapings.
"I love Francis Ngannou," the 41-year-old went on, "We almost had a presser with Dillian Whyte and him, but the UFC shut that down after we taped it. We do have the footage, though."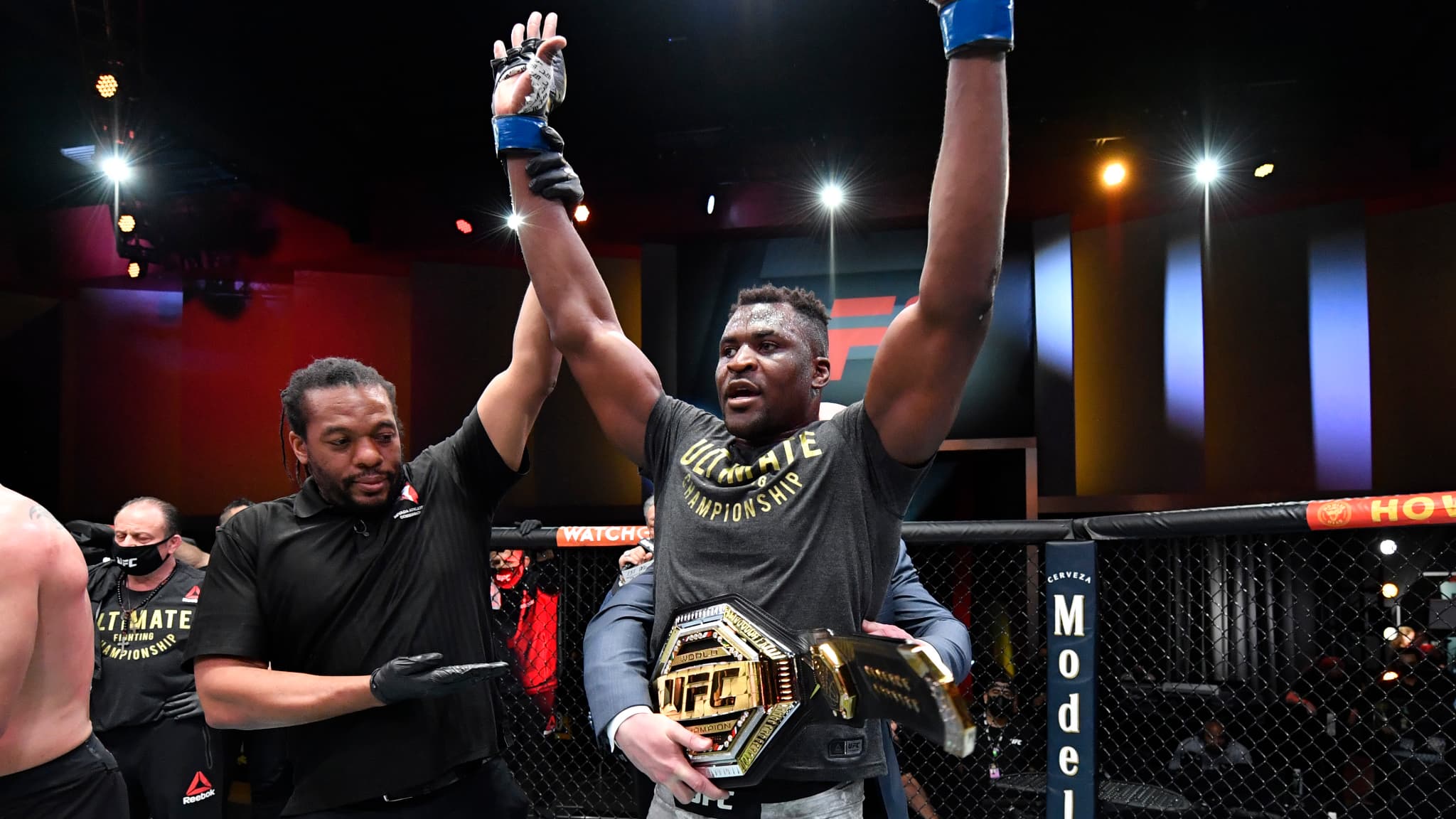 Both Whyte and Ngannou has had history in the each other's sport, and as Hearn insists, the two could be facing each other in a boxing as well as in an MMA match.
"I would love to see a double matchup with Ngannou and Dillian Whyte. One in the cage and one out of it. Ditto for [Katie] Taylor and [Amanda] Nunes," Hearn acknowledged. (H/T World Boxing News)
The current UFC heavyweight champion, who is coming off of a daunting KO win over Stipe Miocic at UFC 260, Ngannou had originally started training as a boxer when he was 22, only to switch to MMA during his hardship in Paris.
The 34-year-old also recently expressed his desire to contest the WBC heavyweight champion, Tyson Fury, in a boxing match.
Whyte, who avenged his loss in the Povetkin rematch last month, has been a professional kickboxer and also has a 1-0 record in professional MMA, back in December 2008 when he defeated Mark Stroud at UCMMA 1: Bad Breed.