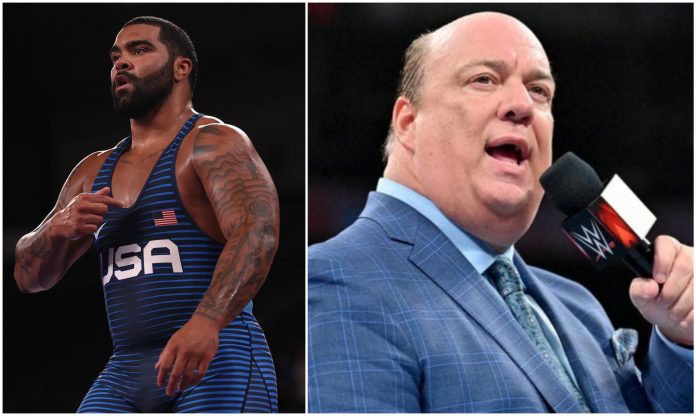 Advertisement - Please Continue to Read Below
Olympic Gold Medalist Gable Steveson had previously expressed his desire to step foot in the world of pro-wrestling. Olympic Gold Medalist like WWE Hall of Famer Kurt Angle has succeeded in WWE and Steveson would certainly want to follow his footsteps.
Gable Steveson seemingly signs WWE contract, likely to be paired with Paul Heyman soon?
As it turns out, Gable Steveson has seemingly signed a contract with WWE. Though UFC President Dana White wanted to bag the signing of the Olympian, it seems he is likely to join forces with WWE Chairman Vince McMahon. Steveson teased on social media that he had signed a contract, but didn't reveal where.
"Just put the pen to paper…" Steveson wrote.
As per the reports of Dave Meltzer of F4Wonline. His next destination is reportedly WWE nad no additional details have been disclosed yet. Gable Steveson's brother, Bobby Steveson has also signed with WWE last week.
Steveson could still return to the University of Minnesota, but it is not clear if he's done there. It has been noted that he had a meeting with Vince McMahon last month at SummerSlam and Steveson also made an appearance during the PPV along with fellow gold medalist Tamyra Mensah-Stock. Previously Seth Rollins had also offered to train Gable.
Gable Steveson is open to join hands with Paul Heyman
Olympic gold medallist Gable Steveson has expressed his desire to work with WWE Universal Champion Roman Reigns' on-screen special counsel, Paul Heyman.
Speaking to Jim Varsallone, Steveson reflected on whether Heyman is committed to supporting Brock Lesnar or Roman Reigns. When Varsallone jokingly suggested that he could pair with Heyman, the Olympian supported the idea.
"You think so? You think so?" Steveson said. "It could happen, you know. Sooner or later, it may happen, but we'll let Brock and Roman take care of business and we'll see what happens."
Paul Heyman worked as Brock Lesnar's on-screen agent in 2002 and as his advocate between 2012 and 2020. During The Beast Incarnate's recent 17-month hiatus, Heyman became Roman Reigns' special counsel on WWE SmackDown.
With the return of 'The Beast Incarnate' at SummerSlam, it has seemingly caused some turmoil in the relationship between Heyman and The Usos but he has been backed by 'The Tribal Chief'.
We will see if Steveson has actually signed a contract with WWE and who knows he could certainly join forces with Paul Heyman in the future.