Former professional strongman Eddie Hall is set to face off against Hafthor Björnsson in a boxing match that is slated to take place in September at the MGM Grand in Las Vegas, and the fight is touted to be the 'the heaviest boxing match in history'.
Both strongmen have already started to trade blows with each other. Hafthor, who gained wordwide fame for his portrayal of "The Mountain" in the popular HBO fantasy series "Game of Thrones", has been an exhibition boxer with making appearance in two fights already.
The Icelander recently squared off against Simon Valilly in Dubai last week and following the fight which ended in a draw, Hafthor called out Hall with a warning: "Eddie Hall, you better be training. Because I'm coming for you, and I'm knocking you out – you're going down."
Meanwhile, a third name has taken the center stage between Hall and Hafthor, and its none other than American powerlifter, bodybuilder and arm wrestler Larry Wheels, and has gotten some heat from none other than Hall himself on social media.
Very sportsmanlike Larry: Eddie Hall fires back at Larry Wheels
Larry, who was recently defeated by arm wrestling ace Schoolboy in Dubai, recently sparred against Hafthor with the boxing gloves, and the 26-year-old even shared a photo with his training partner on his official Instagram handle.
With the boxing world looking forward to the fight between Hall and Hafthor, Larry shared a photo on Instagram yesterday, giving his prediction about the fight.
The post, captioned "My prediction for the match", saw an artwork of Hafthor standing with Hall's severed head hanging from his left hand, stating the obvious- Larry sees Hafthor as the dominating winner. "Let's f****** go!" Hafthor commented.
The post soon came under the radar of Hall, and the 2017 World's Strongest Man commented while taking cheeky shots at both Larry as well as Hafthor. He wrote, "Very sportsmanlike Larry, guess you and Thor clearly have the same attributes 😊"
On top of that, Hall even threw a bet of $10k to Larry regarding the winner of the match, "Fancy a $10k bet on who wins?"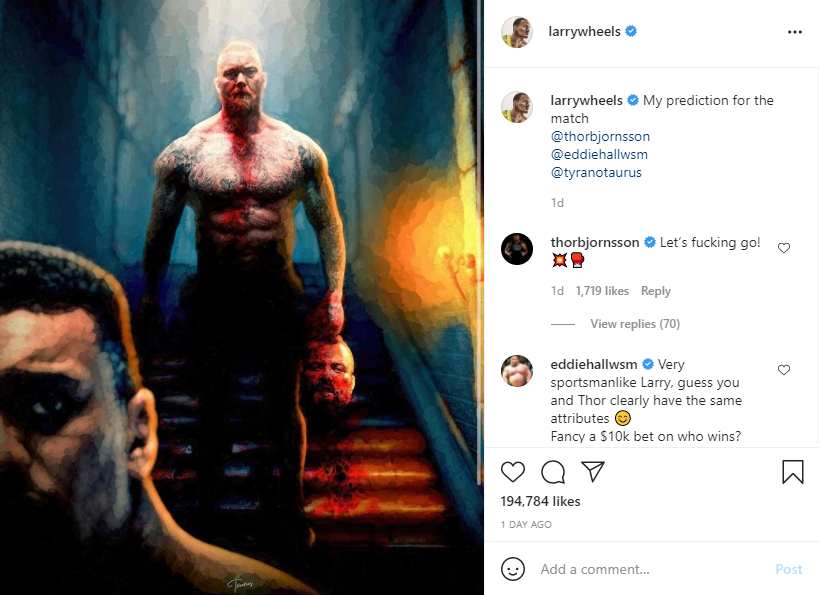 Both Hall and Hafthor have competed against each other in the past. After Hafthor came second to Hall in 2017, the Icelander won the World's Strongest Man title in 2018. Now, the two will be seen inside the squared circle.
Who do you think will win the match between Eddie Hall and Hafthor Björnsson? Let us know in the comments below.