Devon Larratt has defeated 'Monster' Michael Todd at the King of the table event and it was regarded as the biggest Arm Wrestling match-up in the history of the sport.
The match took place at the Conrad Dubai in the United Arab Emirates and the event is sanctioned by the World Armwrestling League. The event was streamed live on coresportstv.
Devon Larratt defeated Michael Todd via unanimous decision (5-0). It was a total shut out and the Canadian proved just why he is the best Arm Wrestler in the world.
The match-up was originally scheduled for WAL 601 on 21st April 2020, however, the Coronavirus pandemic had made it difficult for the promotion to hold the event stateside. UAE opened up the doors to host this mega bout and the kingdom has established itself as the premier sporting destination amidst the pandemic after having hosted multiple UFC pay-per-view cards featuring some of the biggest stars in the sports like Conor McGregor, Khabib Nurmagomedov, Israel Adesanya etc.
The two arm-wrestling supergiants previously clashed against each other at WAL 406 in September 2018 for the Heavyweight Championship. In a nail-biting best of five, the game rolled into the fifth round in which Todd was able to overpower Larratt to secure a 3-2 win.
Schoolboy vs Larry Wheels
Michael Todd was not the only American to lose every single round. Social media and bodybuilding sensation Larry Wheels also suffered a brutal 6-0 loss to Russian Arm Wrestling superstar Schoolboy aka Aleksandr Beziazykov.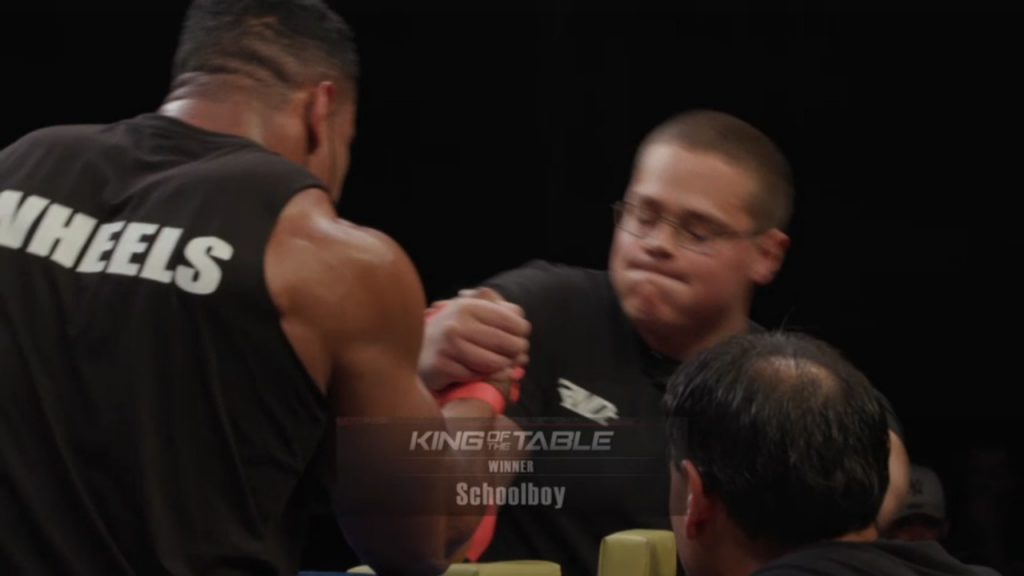 In the opening bout, Latvian Arm Wrestling legend Raimonds Liepiņš defeated Indian Arm Wrestling champion and UAE heavyweight champion Mazahir Saidu 4-3 at the King of the Table event in Dubai, UAE. Mazahir Saidu blew a 3 round lead against Raimonds Liepiņš.
What did you guys think about the event? Did the Arm Wrestler you were supporting win at King of the Table? Let us know in the comment section below.