The current WWE Universal Champion Roman Reigns believes that he has generated interest in the happenings of the World Championship, especially after the part-time reign of Brock Lesnar.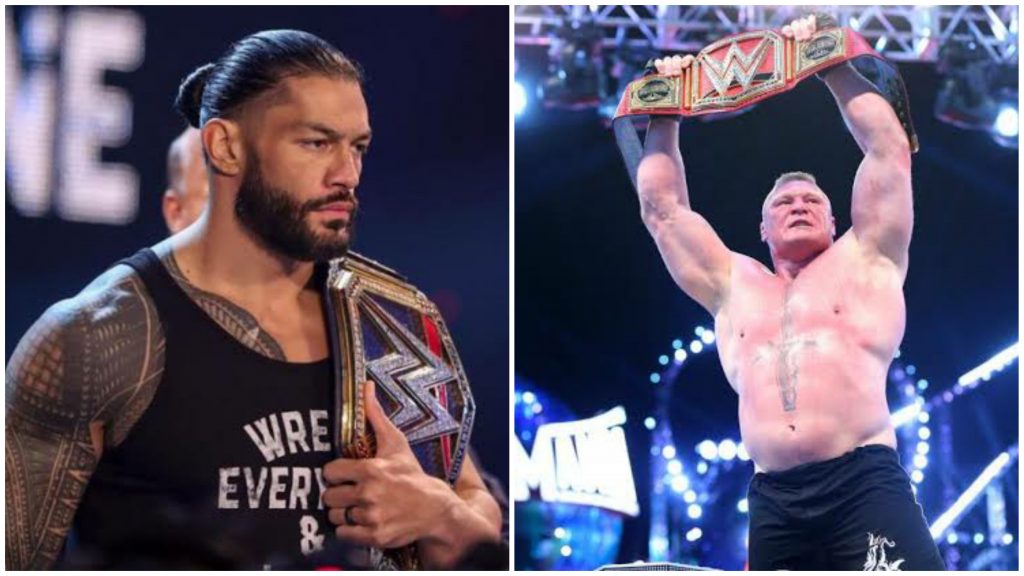 BROCK LESNAR IS A TWO-TIME UNIVERSAL CHAMPION
Brock Lesnar won the WWE Universal Championship in 2016, after an unfortunate injury knocked inaugural Champion Finn Bálor out of the World Championship picture and the reign of Kevin Owens was ended by Goldberg. By defeating him, he became the second person to kick-out from Goldberg's Jackhammer and gave him the first clean singles loss of his professional wrestling career. He defeated challengers such as Samoa Joe and Reigns, before getting defeated by the latter, ending his title reign at 504 days, the sixth-longest world championship reign in WWE history and the longest since 1988.
After Reigns relinquished the title due to a legitimate leukemia relapse, a triple threat match was changed to a singles match between Lesnar and Strowman for the vacant WWE Universal Championship. Lesnar went on to win the Championship for the second time in his career. At WrestleMania 35, Lesnar attacked Rollins before the match. Rollins then attacked Lesnar with a low blow while the referee was down and pinned Lesnar, ending his second reign as Universal Champion at 156 days.
REIGNS BELIEVES THAT LESNAR'S SCHEDULE HURT THE CHAMPIONSHIP
The WWE Universal Championship has mostly not been seen to be as important as the WWE Championship by the fans. Reigns says it is mostly because of Lesnar's part-time schedule and it is only now that he has been able to let audience appreciate the Championship.
"It's really put this Universal Championship on the map because when we debuted it a few years ago, it kind of struggled, and the title reigns weren't what we had hoped for. There were a lot of injuries and then there's a lot of gripes about once Brock Lesnar, who had a pretty long and illustrious title reign… but he wasn't quite as active as some of our hardcore and dedicated fans had hoped. But what I've done over the past plus 30 weeks I think is second to none, and we're just gonna continue to add to that legacy and really set this apart from everybody else," Reigns commented to WWE Now India.