Former fifteen times world champion Floyd Mayweather has conquered some of the biggest names in boxing throughout his impeccable 50-0 professional career, and Oscar De La Hoya  (39-6, 30 KOs) is one of them.
The two boxing giants touched gloves back on 5th May 2007 at the MGM Grand Arena in Las Vegas, Nevada. The super-hyped fight, which was billed as "The World Awaits", had De La Hoya's WBC light middleweight title on the line.
Mayweather, who was 37–0 at that time with the WBC welterweight belt around his waist, went the distance against De La Hoya (having a record of 38-4 before the fight) and won the bout via split decision.
Now, the former 10-time world champion makes his return to the squared circle on 11th September against former UFC light heavyweight champion Vitor Belfort in an exhibition boxing match, and a subsequent clash against none other than Anderson Silva is also on the talks.
I beat him the first time: De La Hoya wants a second time with Mayweather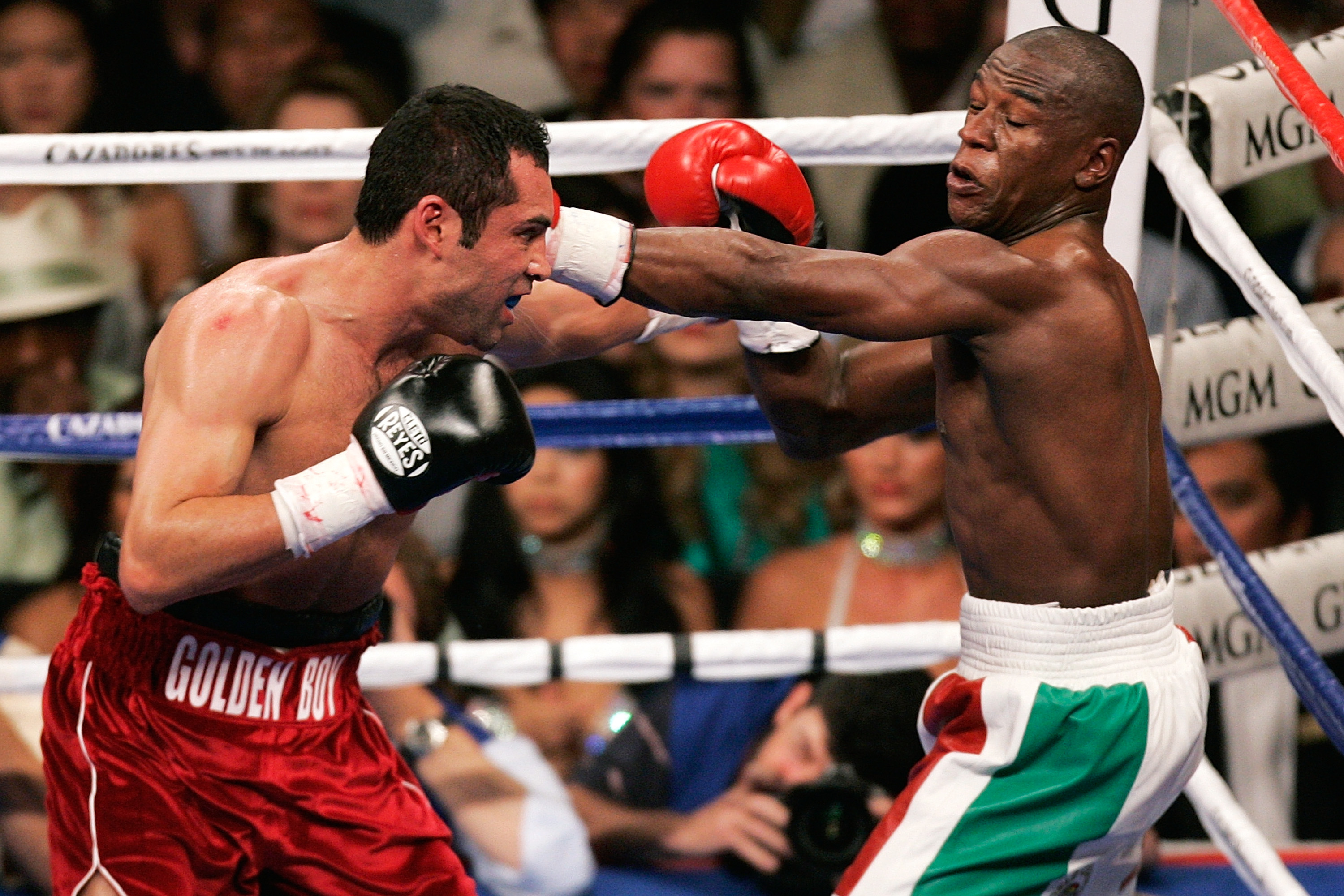 Prior to his boxing comeback, "Golden Boy" recalled the fight dating 14 years back, and revealing that he still feels he was the winner of the fight, and also hints that a rematch against Mayweather can be a possibility after the 48-year-old is done with Belfort and possibly Silva.
"If I get past [Vitor] Belfort [on September 11 in Las Vegas] and then go again in November and then maybe challenge Anderson Silva. And then after that, challenge Floyd Mayweather Jr. [on Cinco De Mayo 2022]" De La Hoya said in a recent interview, "it's all about money for him, so why not? I think there's a lot of money for him to make in that fight. Yeah, I think so."
After going 12 rounds against "Money", one of the judges had scored the fight 115-113 in favour of De La Hoya, while the other two declared Mayweather as the winner with 116-112 and 115-113.
But, the former six-division world champion still believes that he was the winner of the fight, and a rematch will break all PPV records, even greater than Mayweather's 2017 clash against Conor McGregor.
"I beat him the first time. Let's put it that way. That's his motivation. I think we can outdo Conor McGregor [vs. Mayweather financial figures from 2017]. It'll be huge, just because of the rivalry that we've had over the years and the fact that people will know that it'll be a real fight," the Founder, Chairman and CEO of Golden Boy Promotions added.
Mayweather vs De La Hoya 1 had generated 2.45 million PPV sales, along with a whopping $136,853,700 domestic revenue record. In comparison, Mayweather vs McGregor had over 4.3 million PPV buys as well as more than $500 million in total revenue.