WWE RAW Women's Champion Charlotte Flair successfully defend her title against Alexa Bliss at recently concluded WWE Extreme Rules pay-per-view. They had been involved in a feud for quite some time and after weeks of build-up they finally squared off at Sunday's event. went on to destroy Bliss' Lilly doll after the match. Charlotte Flair defeated Bliss by pinfall to retain the title and following the match 'The Queen' took Lilly and ripped it into pieces, which led to a brawl between Flair and Bliss. Flair went to backstage and explained his ruthless actions.
Charlotte Flair wanted to give a wake-up call to Alexa Bliss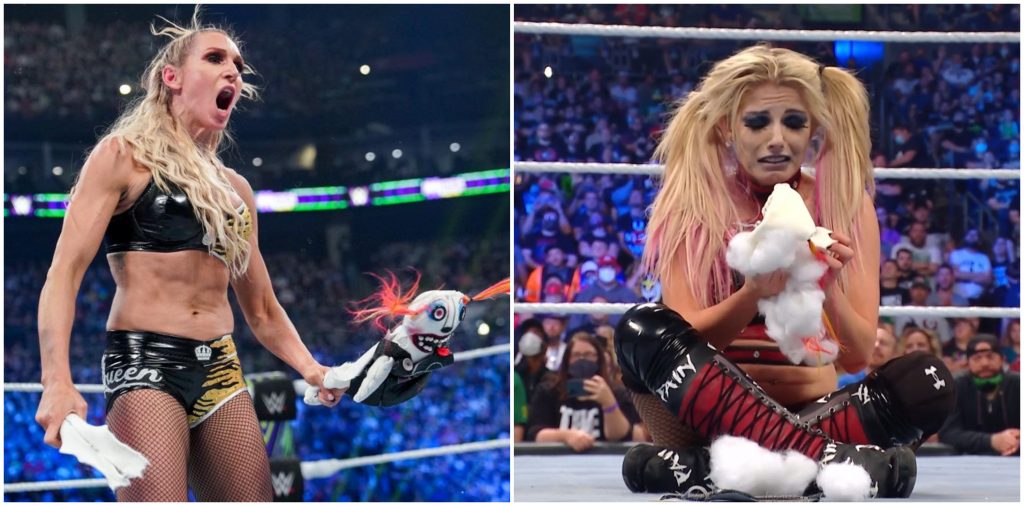 Alexa Bliss was sorrowful over the loss of Lilly. At WrestleMania 37, Bliss had distracted 'The Fiend' that cost his match against Randy Orton. She later stated that she didn't need The Fiend anymore and introduced Lilly to the WWE Universe.
Charlotte Flair had been angry with Lilly and following the match she ensured that she doesn't have see or hear about Lilly anymore.
After the match concluded Charlotte Flair went backstage as she Alexa Bliss heartbroken over the ripped pieces of Lilly. Flair also took to her Twitter account and reacted to Lilly's destruction. She also appeared in a backstage interview to reveal why she destroyed the doll.
ALSO READ: Vince McMahon reportedly prohibits the usage of a city's name in WWE programming
During her interview backstage, Flair addressed Bliss by her real name, Lexi. Flair also stated that the woman she faced tonight was the old Alexa, and that was what the fans wanted to see.
She said: "The Alexa I faced tonight was the old Alexa. It was the Alexa I saw when she held the RAW Women's Championship multiple times. Tonight, she fought me and faced me. Yes, I'm still the Queen, but that's the Lexi we all want to see. I don't want to hear about Lilly."
"Ripping up Lilly was a wakeup call. A wakeup call to remind her that she's still a champion at heart," said Flair.
Did #WWERaw #WomensChampion @MsCharlotteWWE bring out the best in @AlexaBliss_WWE at #ExtremeRules? 🤔 pic.twitter.com/vJzGgoFNYF

— WWE (@WWE) September 27, 2021
We will have to see whether their rivalry continues or it is the end. Bliss' gimmick could take a turn and she might even switch back to her old persona now that Lilly won't be present anymore.
Highlights:
Charlotte Flair retains WWE RAW Women's title against Alexa Bliss at Extreme Rules
Charlotte Flair destroys Lilly after the match