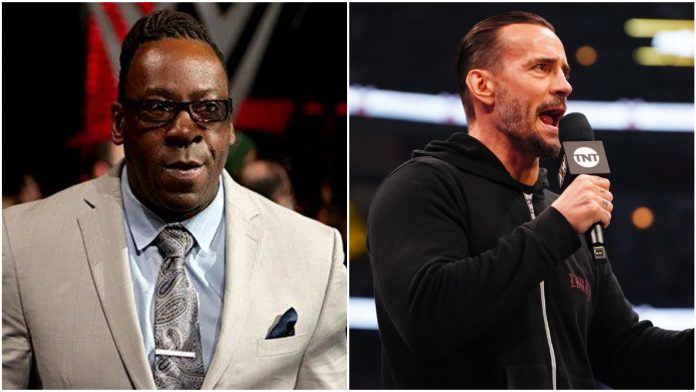 Advertisement - Please Continue to Read Below
WWE Hall of Famer Booker T often shares his thoughts on the happenings in the world of pro-wrestling. The AEW debut of CM Punk has been the hottest topic for weeks and he finally made his pro-wrestling return after an absence of seven long years.
While the fans have enjoyed the debut of CM Punk and his emotional promo upon his arrival, Booker T is seemingly not impressed with 'The Second City Saint' as he believes Punk fell short.
Booker T reflects on the CM Punk promo
It is needless to say that CM Punk has animosity with WWE and that was one of the major reasons he had left the company back in 2014. That factor also played a role in his AEW debut promo.
Just like the fans, Booker T had also noted how CM Punk took multiple shots at WWE during the promo at last week's AEW Rampage: The First Dance. The WWE Hall of Famer felt Punk's promo was not up to his usual standards and could have been better.
On his Hall of Fame podcast, Booker T stated that Punk should've made some "noise" about AEW and how big of a company is, rather than talking about his previous employer, WWE. The former WWE Champion had gotten a mic time of ten minutes which the WWE legend believes was not fully utilized.
The two words that broke the internet. "I'm back."- @CMPunk

CM Punk will make his #AEWDynamite debut this Wednesday on @tntdrama! pic.twitter.com/Po9D2YZvcR

— All Elite Wrestling on TNT (@AEWonTNT) August 23, 2021
Here is what Booker T said:
"CM Punk came back and he had 10 full television minutes to go out there and make his point as far as Punk is coming back. He had the perfect crowd to be able to go out there and really… I'm talking about, have a party up in that United Center. But, CM Punk came back and took his moment and chose to talk about WWE. That right there was a total miss as far as I'm concerned."
Booker T believes CM Punk missed a moment in front of his hometown of Chicago:
"I just don't think CM Punk delivered the way he could have, as far as a promo goes. I didn't feel a promo. I felt like a guy talking about WWE. When you're talking about the other side, the only thing you're doing is giving them air-time."
CM Punk is set to make his in-ring debut at All Out pay-per-view against Darby Allin, who had previously challenged him. Punk is also set to make an appearance at this week's AEW Dynamite.