Very few rivalries, if any, bring to the fore the kind of emotions that CR7 vs Lionel Messi does. And such is the nature of this rivalry that be it a 7-year-old football enthusiastic kid in Madeira or an all-time great like Pele, everyone has something to weigh in. The latest addition to this worldwide list is none other than the swashbuckling Beckham.
The heart of the matter-
David Beckham who himself was a part of both Man U and Real Madrid, before moving to Serie A has had a similar career trajectory to Cristiano Ronaldo.
"He [Messi] is alone in his class as a player, it is impossible that there is another like him," he interviewed earlier in April.
He further added -"He, like Cristiano Ronaldo, who is not at his level, are both above the rest."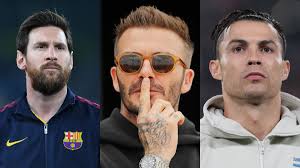 His assessment pretty much sums up what has been the general view of footballing fraternity ever since the dawn of this debate. To people who know the nitpicks of football, Messi almost always comes up on top, so much so that he was proclaimed as "God's gift to football".The simple fact that Cristiano's name has been able to keep popping up every now and then in a league of Messi is a testament to his mental and physical fortitude.
Beginning to get on my nerves, all this 'who is the best, Messi or Ronaldo' nonsense. So who do you reckon is the greatest?

— Gary Lineker (@GaryLineker) March 13, 2019
However, Cristiano too has had his fair share of admirers in the footballing fraternity.CR7 has been a torchbearer of people who love the idea of fast-paced, direct, and counterattacking football as opposed to the technical (and at times a tad slow) tiki-taka. And Beckham belonged to this group and hence it comes as a bit of a surprise that he rates Messi higher.
Perhaps the most accurate description of this rivalry was put forth by Diego Simeone(who has had his fair share of banterings from the Messi-Ronaldo duo)-
"What I consider is that in a team with fewer solutions, Ronaldo is a better fit because he provides many solutions, For a team which focuses on football, Messi is much better. [Ronaldo] can win a game in two actions, he simplifies the situations," said Diego Simeone.
The match that turned a Madrista to a believer in 'Messi'ah
To people who battle it out on the field, a single match can get so etched in the memory that it shapes their entire analysis. The PSG vs Barcelona Champions league quarterfinal of 2012/13 season is one such match.PSG was leading right up until 65th minute, until a not very fit Messi came and crashed the PSG dreams. Beckham was a part of that PSG and he remembers that match with as much awe for Messi as the next guy. Perhaps it was this moment of Messi magic which turned this Madrista into a Catalan admirer.
More than 15 years have passed since two lanky teenagers debuted into the world of football and made the entire Earth their stage. And even now, when they have entered the dusk of their careers they continue to enthrall, mesmerize, and most importantly, question the beliefs of even the best of us. The fact that a Madridista, who played counterattacking football all his life, has turned into a Messi admirer is just one testament of the duo's abilities.
ALSO READ:
Lionel Messi lambasts Barcelona team after letting La Liga title slip