Advertisement - Please Continue to Read Below
Batista, the former WWE star who recently celebrated his 52nd birthday on Monday, took to his social media account and shared some pictures of himself, showing off his ripped physique.
Batista shares a heartfelt post
During his stint in WWE as a wrestler has had one of the best physiques in the company and he has retained that all along the years.
The wrestler turned actor took to his Instagram account and shared a few shirtless shots. He also joked that everything on his body is about to start sagging soon.
He said that maintaining the body is a constant struggle for him and spoke about counting the days after which his body will start sagging.
He wrote: "I'm 52 today so I figured I'd post some gratuitous shirtless shots for posterity. I'm expecting everything on my body to start sagging any moment now…It's a constant struggle. I've given up on above the neck but thankfully everything below the waist is holding strong and functioning properly. For now! Counting the days on that as well."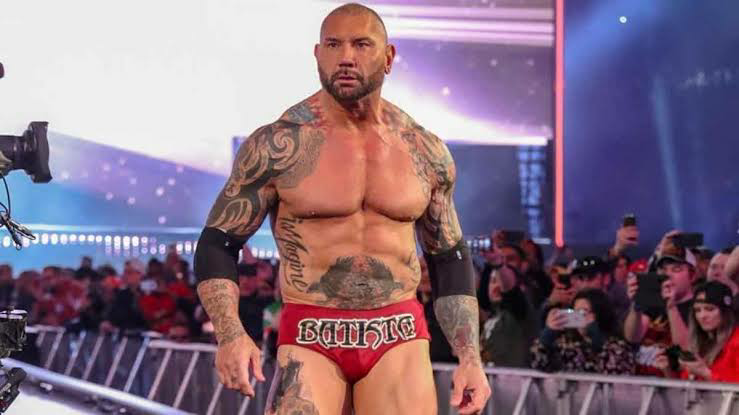 Batista is also thankful to God for his good health amid the global pandemic. He is also grateful to spend another year, specially battling the times when the world is panicstricken with COVID-19.
He wrote: "Anyway without further adieu I present to you "Douchey Shirtless Selfies #52″ … and on a serious note I thank god every day that I'm in good health and I've lived to be another year older. Especially this year. ????Being the best me I can be. Peace,love and cheers to better days ahead."
Check out the post below:
Batista made his main roster debut 2002 and became of the top heels of the company. He also joined the heel stable, Evolution.
He went onto defeat Triple H to capture his first World title in the main event of WrestleMania 21.
However, The Animal left the company in 2010 but made his return for a short tenure in 2014. He fought his final match against Triple H, in a losing effort and announced his retirement after that.

ALSO READ: Batista offers $20K award to anyone with info on "Trump Manatee" attackers
Batista was originally a part of the 2020 WWE Hall of Fame class but due to the pandemic, he will be inducted this year. He will join the likes of JBL, The Bella Twins, Jushin Thunder Liger, The British Bulldog and The nWo (Hulk Hogan, Sean Waltman, Scott Hall, Kevin Nash) as part of the 2020 Class.